Iran leader calls for Israel's destruction
(AP)
Updated: 2005-10-27 07:29
Iranian President Mahmoud Ahmadinejad declared Wednesday that Israel is a "disgraceful blot" that should be "wiped off the map" ¡ª fiery words that Washington said underscores its concern over Iran's nuclear program.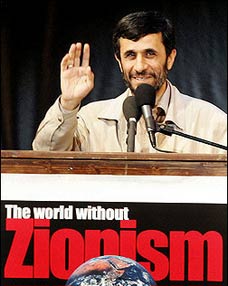 Iranian President Mahmoud Ahmadinejad waves during a conference in Tehran entitled 'The World without Zionism.'[AFP]

Ahmadinejad's speech to thousands of students at a "World without Zionism" conference set a hard-line foreign policy course sharply at odds with that of his moderate predecessor, echoing the sentiments of Ayatollah Ruhollah Khomeini, the founder of Iran's Islamic revolution.

The United States said Ahmadinejad's remarks show that Washington's fears about Iran's nuclear program are accurate.

"I think it reconfirms what we have been saying about the regime in Iran," White House press secretary Scott McClellan told reporters in Washington. "It underscores the concerns we have about Iran's nuclear intentions."

Ahmadinejad also condemned Iran's neighbors which seek to break new ground in their relations with Israel. "Anybody who recognizes Israel will burn in the fire of the Islamic nation's fury," state-run television quoted him as saying.

Relations between Israel and several Persian Gulf states have been thawing amid Israel's withdrawal from the Gaza Strip in September.

Bahrain announced in September it was ending a decades-old law banning trade ties with Israel. In October, Qatar said it was donating $6 million to help build a soccer stadium for a mixed Arab-Jewish team, the first such financial assistance by an Arab state for any town inside Israel.

Israel has been at the forefront of nations calling for an end to Iran's nuclear program, which the United States and many others in the West say is aimed at acquiring weapons of mass destruction. Iran insists the program is for generating electricity.

Referring to Palestinian suicide bomb attacks in Israel, Ahmadinejad said: "there is no doubt that the new wave in Palestine will soon wipe off this disgraceful blot from the face of the Islamic world."