Duties wrong way on China yuan: Snow
(Reuters)
Updated: 2005-10-27 07:06
A bill threatening China with steep tariffs on its exports to the United States is the wrong way to encourage Beijing to further loosen its currency trading regime, U.S. Treasury Secretary John Snow said on Wednesday.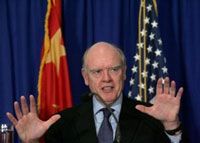 Treasury Secretary John Snow speaks during a news conference in Beijing October 17, 2005. Snow on Wednesday said legislation seeking new tariffs on China's goods was the wrong way to encourage Beijing to further loosen its yuan currency trading regime. [Reuters]

"This legislation points in the wrong way," Snow said in response to questions after an address to the Council on Foreign Relations. "It points in the direction of protectionism and isolationism. That's the wrong way to go."

Snow said he'd had "direct, private, candid" conversations with top leaders during a recent trip to China to encourage them to let the Chinese yuan become more flexible and had met with a positive reception.

Democratic Sen. Charles Schumer of New York and his Republican colleague, Sen. Lindsey Graham of South Carolina, have proposed tariffs up to 27-1/2 percent on Chinese imports unless China lets the currency be subject to market forces.

The senators unexpectedly won a procedural vote on the bill earlier this year by a tally of 67-33.

Under Bush administration pressure, Schumer and Graham agreed to delay a second vote until the end of this year's legislative session to give China more time to act.