Ministry: Latest bird flu case 'stamped out'
By Zhao Huanxin and Wang Zhenghua (China Daily)
Updated: 2005-10-27 05:48
The latest outbreak of bird flu, which killed 545 ducks and chickens in Central China's Hunan Province, has been stamped out, the Ministry of Agriculture said yesterday.
The third case of the fatal avian influenza in China reported in a week is suspected to have been caused by virus-carrying waterfowl, experts said yesterday.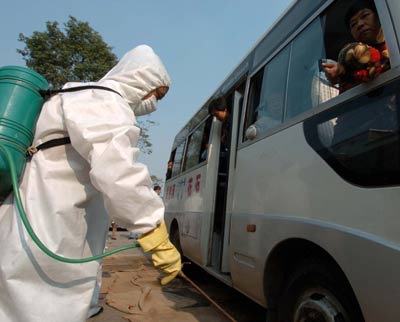 A health worker disinfects a vehicle coming into the Shebu Township where a bird flu outbreak was reported in Xiangtan, Central China's Hunan Province Wednesday October 26, 2005. [Xinhua]
The contagion, following one in northern Inner Mongolia and another in eastern Anhui Province, was first detected among 13 household farms in Wantang Village, Shebu Town of Xiangtan County, last weekend, the county veterinary bureau said.
The National Avian Influenza Reference Laboratory identified the infection as the deadly H5 subtype avian influenza virus on Tuesday; and the result has been sent to the World Organization for Animal Health.
"Immediately after the epidemic broke out, Xiangtan County initiated contingency schemes, culling 2,487 domestic birds within a 3-kilometre radius of the outbreak site, and vaccinating 43,750 others in the vicinity," the veterinary bureau said in a statement.
They also implemented control measures including quarantine and disinfection of infected farms, the Veterinary Bureau under the Ministry of Agriculture said in a report to the World Organization for Animal Health on Tuesday.
The ministry said it sent a working group to Xiangtan upon receiving a report of a suspect case from the local government, to guide prevention and control efforts.
"No new outbreak site has been found in the province," the ministry said in a statement yesterday.
Earlier, Health Minister Gao Qiang said on Tuesday that China has set up a special department to deal with the situation. "The ministry has established 192 monitoring spots across the country for bird flu; and a strict mechanism is also in place for surveillance," he reportedly said.
Meanwhile, China is working together with the rest of the world to curb the epidemic, Gao said.
He said that China has set up effective channels for information sharing with many other countries, including the United States.
"If there's an outbreak among birds, the Ministry of Agriculture will report it to international organizations, other nations and the public. If human beings are infected, the Ministry of Health will make it public," he said.
Gao made the remarks during a press conference while attending a two-day brainstorming session in Ottawa, Canada, on preventing and preparing for a flu pandemic.
Health ministers and experts from 30 countries gathered to discuss measures to ward off a wider spread of the bird flu virus, which experts fear might mutate into a deadly human pandemic.
Yesterday, European health officials ended a three-day review in Copenhagen of the continent's readiness to contain a possible flu pandemic, as tests confirmed the deadly strain of bird flu had reached Croatia. The EU Commission announced yesterday that the deadly H5N1 strain of the virus, which has killed more than 60 people in Asia, was found in dead swans in Croatia.
It was detected earlier in birds in Romania, Russia and Turkey, raising fears it could spread to the rest of Europe.
(China Daily 10/27/2005 page1)