Islamic Jihad leader buried amid violence
(AP)
Updated: 2005-10-26 09:11
Thousands of Palestinian mourners buried one of Islamic Jihad's top leaders Tuesday, a day after he was killed during a shootout with Israeli troops, sparking a new round of violence.
Hours after Luay Saadi, the leader of Islamic Jihad's military wing in the West Bank, and a close accomplice were killed in a gunfight in the Tulkarem refugee camp in the West Bank, Islamic Jihad militants launched two homemade rockets into Israel from the Gaza Strip.
Early Wednesday, Palestinian militants in the Gaza Strip fired another rocket into southern Israel, but there were no reports of damage or injuries in the town of Sderot, the army said.
Israel, which said it would act harshly against any attacks from Gaza following its withdrawal from the coastal strip last month, responded by firing artillery and missiles from a helicopter into empty fields in northern Gaza the militants used to launch the rockets.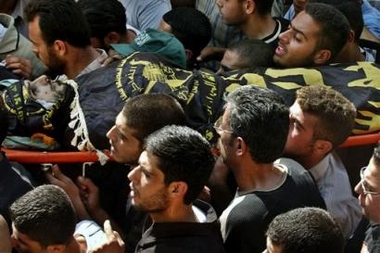 Palestinian mourners carry the body of top Islamic Jihad militant Luay Saadi during his funeral in the West Bank town of Tulkarem, Tuesday, Oct. 25, 2005. [AP]

Early Tuesday, Israeli aircraft also fired missiles at a building in the northern Gaza town of Beit Hanoun used by Al Aqsa Martyrs' Brigades militants and a second building housing an Islamic Jihad welfare institution in the Rafah refugee camp in southern Gaza, the Israeli army and Palestinian officials said. The Rafah attack left a 65-year-old woman and a 4-month-old baby in moderate condition and lightly wounded three others, Palestinian health officials said.

The Palestinian Authority said Tuesday it had deployed troops to areas of northern Gaza to stop the rocket fire. No more rockets were launched after the initial attacks Monday, the army said.

Palestinian leader Mahmoud Abbas on Tuesday condemned Saadi's killing and Islamic Jihad's retaliation, which he called "silly."

"We don't accept the Israeli aggression and we don't accept the silly responses that lead to the punishment of the (Palestinian) people," he said.

About 10,000 people attended Saadi's funeral in Tulkarem on Tuesday, including members of most Palestinian militant groups. The town was completely shut down, with shops and schools closed for the day.

Saadi was blamed for the deaths of 12 Israelis in a series of attacks in recent months.

Saadi's body was carried across town as the masses chanted for revenge. "God is great. God loves him. God hates the Jews. They are killers," some mourners chanted.

Mahmoud Hussein, 48, was one of the many crying. "I am not family. I am crying because he is a great leader and I love him and always when the Israelis would kill Palestinians he would respond," he said.

Saadi's father, Jihad, said his son went underground after being arrested several times by the Israelis.

"He decided he did not want to go back to prison because he saw bad things there," he said. "This was the way he wanted to live."

Also Tuesday, a shadowy Palestinian militant group said it had released two people it accused of collaborating with Israel after shooting them in the legs.

The street justice was the latest sign of chaos and lawlessness in the streets of Gaza following Israel's pullout.

The men were abducted Oct. 18 by the group calling itself "Knights of the Storm." The group said it had abducted the men in the southern Gaza town of Khan Younis after Palestinian officials refused demands to arrest them.

The gunmen, who said they are affiliated with Abbas' ruling Fatah faction, said that a lengthy interrogation of the men revealed that they had been giving Israeli security information about local militants for two years.

As a punishment, the group decided to shoot them in the legs, hand them over to their families and demand they remain under an informal house arrest for nine months.