Singapore PM: China's growth 'good for Asia'
By Qin Jize (China Daily)
Updated: 2005-10-26 05:44
Singapore Prime Minister Lee Hsien Loong said he believes that China's development is a major plus for Asia, that world would benefit not just economically but also in international affairs.
He said China's growth would shift the centre of gravity of the global economy towards Asia, and "create a favourable environment for other Asian countries to grow, and enable the continent to play a significant and constructive role in world affairs."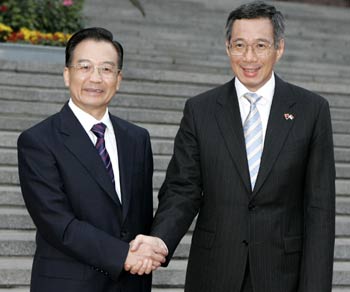 Chinese Premier Wen Jiabao (left) shakes hands with his Singapore counterpart Lee Hsien Loong during a reception ceremony outside the Great Hall of the People in Beijing October 25, 2005. [Xinhua]
Lee, who is on a seven-day visit to China, made the point to some 700 students at the Party School of the Communist Party of China Central Committee yesterday in Beijing.
This is his first official visit to Chinese mainland since becoming prime minister in August last year.
He spoke for about 40 minutes in Chinese before taking questions. Though it was not the first time he made a public speech in Chinese, sources from the Singaporean Embassy in Beijing said the prime minister prepared diligently for quite some time.
Lee said ASEAN (Association of Southeast Asian Nations) members welcome closer ties with China; and that the latter was actively engaged with the regional bloc on matters such as a free trade agreement.
The Singapore leader also touched on China's relations with the United States and Japan, saying from a strategic point of view, an open Asian region in which the US, the European Union and other countries have a stake will also help relations between China and other powers.
He said Singapore has benefited from a stable regional order and the best way to enhance this favourable environment is to have a successful China take an active interest in the region, alongside India, Japan and the US. He said that's why he wants China to succeed and Singapore will participate in its transformation in whatever way it can.
Later in the day, Lee held talks with Chinese counterpart Wen Jiabao at the Great Hall of the People after a welcome ceremony.
He reiterated that his country supports the one-China policy and opposes the Taiwan's "independence" moves.
Wen appreciated Lee's objective attitude towards China's development and expressed the nation's willingness to raise bilateral ties to a higher level.
Accompanied by several ministers and a 40-strong business delegation, Lee will also visit three other cities the northern port city of Tianjin, and Shenyang and Dalian in Northeast China's Liaoning Province to seek more business opportunities.
With China poised to enter the next wave of development, Singapore businesses are eagerly eyeing economic opportunities in the western and northeastern parts of the country
Lee is scheduled to meet President Hu Jintao, top legislator Wu Bangguo and top political adviser Jia Qinglin today.
(China Daily 10/26/2005 page2)