New bird flu outbreak in China reined in
(AFP/China Daily)
Updated: 2005-10-26 05:41
China was struck by another outbreak of bird flu and a fourth person died from the virus in Indonesia amid warnings that the lethal disease could cost the Asia region up to 290 billion dollars.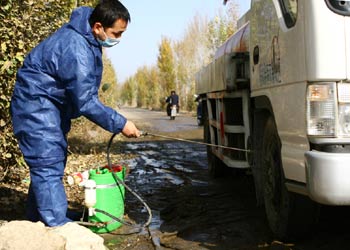 Health workers disinfect vehicles coming out of Bayan township near Hohhot in the Inner Mongolia Autonomous Region October 24, 2005, following the deaths of 2,600 birds from H5N1 bird flu strain in a farm there last week. [China Daily]
At the same time, Vietnam said it had contained its first outbreak this season, detected earlier this month in a flock of 600 ducks in southern Dong Thap province.
In China's Anhui province, 2,100 geese and chickens were infected with the deadly H5N1 strain of the virus that has killed at least 60 people in Asia since late 2003, two-thirds of them in Vietnam.
The outbreak was detected on October 20 in Liangying village and so far 550 birds have died, according to a Ministry of Agriculture report to the World Organisation for Animal Health (OIE).
Another 44,736 birds have been culled, as China strengthened monitoring around the country, winning praise from the UN Food and Agriculture Organisation.
"They report the outbreaks swiftly and the cooperation is very smooth, especially in information sharing," FAO China representative Noureddin Mona told AFP.
In Indonesia, a fourth person died from the virus, the World Health Organisation (WHO) and the health ministry announced.
"We now have seven cases of bird flu, including four fatalities," health ministry official Renuizar Rusin said.
Another ministry official Hariyadi Wibisono said the casualty was a 23-year-old man who died on September 30 in Bogor, south of Jakarta. Test results received Monday confirmed he had bird flu.
WHO Indonesia director Georg Petersen said the victim had a history of contact with birds.
"As far as we know this H5N1 is circulating in birds in Indonesia. As long as that happens we expect there will be occasional infections in humans. It doesn't mean the situation has changed," Petersen told AFP.