Pregnant Holmes announces marriage time
(AP)
Updated: 2005-10-25 16:42
Katie Holmes appeared in public for the first time since the actress and future husband Tom Cruise have announced they expect their first child, after just five months of engagement.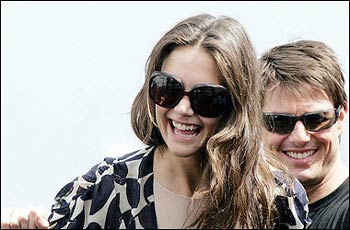 Hollywood megastar Tom Cruise (R) and his fiancee of six months Katie Holmes, pictured July 2005, are expecting a baby. [AFP]


Holmes went to a Los Angeles fashion show recently, accompanied by one of her new best friends, Victoria Beckham, all dressed in black, in an attempt to hide her huge bump.

The two stars sat in the front row at the Rock & Republic Fashion Show, surrounded by stars including Paris Hilton and Mena Suvari. Victoria Beckham, who created some of the denim fashions on the show, gave Holmes a pair of jeans to wear for the event.

¡°It¡¯s a dream come true,¡± the actress said. ¡°I feel great, (being pregnant) is so beautiful. I¡¯ve never been so happy. ... I¡¯m beaming.¡±

Holmes, 26, and Tom Cruise, 43, became engaged in June. Her pregnancy was first reported earlier this month. It would be Holmes¡¯ first child. Cruise has two adopted children, Connor, 10, and Isabella, 12, from his marriage to Nicole Kidman.