Former Taiwanese leprosy patients win case against Japan
(AFP)
Updated: 2005-10-25 16:12
Former leprosy patients in Taiwan who were forcibly isolated under Japanese colonial rule won a legal victory as a Tokyo court ordered the state to pay compensation, but South Korean plaintiffs lost a similar suit.
Judge Hiroyuki Kanno at the Tokyo District Court said the 25 claimants were entitled to damages under a 2001 law compensating thousands of leprosy patients in Japan who suffered decades of systematic abuse by the state.
But in a separate court ruling, former South Korean leprosy patients lost their claim for compensation as a second judge reached a different legal conclusion as to whether the law applies to overseas patients.
The contrasting rulings were the first-ever verdicts on the Tokyo government's isolation of leprosy patients outside of Japan.
Huang Chin-liang, a 76-year-old Taiwanese plaintiff who was sent to a segregation facility at age 14, told reporters she was only "half-joyful", expressing sympathy for her dejected South Korean comrades.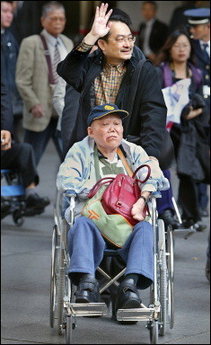 Taiwanese plaintff Wang Jiang-He, 79, (front) and a supporter leave the Tokyo District Court. [AFP/file]

"I'm speechless with sorrow," said South Korean plaintiff Chang Gi-Chin, who was forcibly sterilised after he refused to pay homage to a Shinto shrine built in the sanatorium because he is a Christian.

"I can't understand the discriminatory ruling which makes a group of sufferers go home with a smile and the other with tears," the wheelchair-bound 84-year-old said as he wiped away tears.

The defense counsel involved in the Taiwanese and South Korean lawsuits said they hoped to find a swift solution in both cases, as the average age of the plaintiffs is already over 81.

"It cannot be forgiven to prolong the settlement because of the divided legal judgments," chief lawyer Naoko Kunimune told a news conference. The defence team will urge the health ministry not to appeal the Taiwanese case.

Kunimune vowed to appeal the ruling in the South Korean case, which she criticised for "sticking to legal details and failing to look at the whole picture".

The two judges arrived at different interpretations of whether the law applies to facilities located overseas -- a point that is not explicitly defined in the text.

Judge Toshihiko Tsuruoka at the Tokyo District Court rejected the argument by the 117 South Korean plaintiffs, who were put in enforced isolation during Japan's 1910-45 occupation of the Korean peninsula, that an earlier compensation deal should also apply outside Japan.

He said there was no evidence that Japan's governing parties took patients in sanatoriums overseas into consideration when they drew up the 2001 law.

But Judge Kanno, ruling in the Taiwanese case, said: "It would be inappropriate in terms of legal equality to exclude inmates from compensation only because their facility was in Taiwan."

Japan's 1907 legislation provided for patients to be forcibly isolated as a national policy. This continued long after it was established that leprosy could not be contracted simply by touching someone with the disease.

In 2001 the Japanese parliament approved a compensation bill worth up to 14 million yen (122,000 dollars) for each of hundreds of leprosy patients in Japan who suffered decades of systematic abuse by the state.

In December 2003, South Korean former patients from a hospital on Sorokto island off the Korean Peninsula asked Japan's health ministry to compensate them in line with the 2001 law. Their request was rejected in 2004.

The Sorokto hospital opened in 1916 and at one point held more than 6,000 patients. Some 700 people -- including the plaintiffs -- still live at the facility, according to lawyers supporting them.