Ba Jin's funeral held amid tears, praise
By Xu Jitao (China Daily)
Updated: 2005-10-25 05:53
Li Yi is an 11-year-old elementary school student and is unlikely that she would have read or understood the works of Ba Jin, one of the country's most acclaimed novelists of the past century.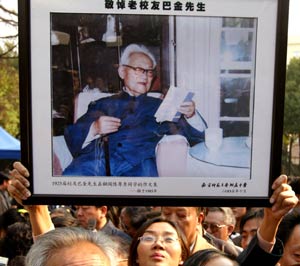 A woman holds a portait of Ba Jin during a funeral of the late writer in Shanghai October 24, 2005. [Xinhua]
But that did not stop her from attending the funeral in Shanghai yesterday of the literary giant who passed away in the city last week at the age of 101.
She does have a close link with Ba, though. Their hometown is Chengdu, capital of Southwest China's Sichuan Province; and the writer's home was next to her school.
Li was one of thousands who paid their last respects to Ba in Shanghai, Beijing and other cities around the country yesterday. "We were told many stories about Ba. My classmates and I kept writing to him. This time, I come here to say good-bye to our grandfather Ba Jin," said Li.
The ceremony was held at Shanghai Longhua Funeral Home; and according to Ba's last wish, his ashes will be cast into the East China Sea along with those of his wife, Xiao Shan.
The funeral started at 2 pm, but there were big crowds at the gate much earlier.
Many had never met Ba, they had only read his works and did not want to miss the chance to say goodbye.
Zong Fuxian, a renowned writer who was a close friend of Ba, said that he was sad at the loss. "He was a very nice man - such a nice man can rarely be found."