Bird flu: Beijing demands rapid response
By Bao Daozu (China Daily)
Updated: 2005-10-25 05:51
Three hours. That's the maximum it should take for a bird-flu outbreak anywhere in the country to be reported to Beijing.
The exacting timeline is part of a contingency plan hammered out by the Ministry of Agriculture to counter possible outbreaks of the potentially-fatal influenza this autumn and winter.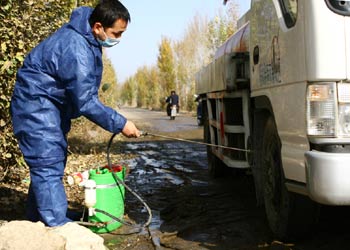 Health workers disinfect vehicles coming out of Bayan township near Hohhot in the Inner Mongolia Autonomous Region October 24, 2005, following the deaths of 2,600 birds from H5N1 bird flu strain in a farm there last week. [China Daily]
According to the plan made available to China Daily yesterday, an outbreak in any county or city must be reported to provincial authorities within 2 hours; and after confirmation, the provincial veterinary bureau must report to the ministry within an hour.
Any one can report an outbreak to a veterinary bureau, and inform authorities about any misconduct by a department or person in disease prevention, the document said.
It added that drills should be conducted for emergency operation teams consisting of veterinary and health workers and servicemen and volunteers mobilized if necessary.
The measures come at a time when the world is worried about an impending pandemic. In the latest cause of alarm, the deadly strain of the virus H5N1 was confirmed in a dead parrot in the United Kingdom.
The virus is spread by migrating wild birds and has recently been found in Russia, Turkey and Romania, spurring efforts around the globe to contain its spread.
While H5N1 is easily transmitted between birds, it is hard for humans to contract. But experts fear it could mutate into a form of flu that is easily transmitted between humans and cause a pandemic that could kill millions.
In Beijing yesterday, the Ministry of Health denied earlier media reports that China would close its borders if a single case of human-to-human transmission of bird flu occurred.