Gunmen kill 12 in Iraq as US toll nears 2,000
(AFP)
Updated: 2005-10-24 20:18
Twelve Iraqi building workers were gunned down, police said as the US death toll since the invasion neared 2,000, heightening pressure on President George W. Bush over the US role in the violence-ravaged country.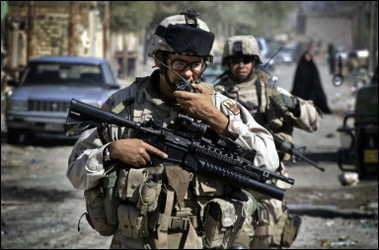 US soldier talks on an army radio during a foot patrol through southern Baghdad. Twelve Iraqi building workers were gunned down, police said as the US death toll since the invasion neared 2,000, heightening pressure on President George W. Bush over the US role in the violence-ravaged country. [AFP]
With the insurgency showing little sign of abating, Iraqi officials were continuing to tally votes from the referendum on a new post- Saddam Hussein constitution with full results still not known nine days after the vote.
The electoral commission said it would release results from a 14th province on the charter, which has exacerbated the country's deep ethnic divisions.
It was not known if the results were from Nineveh, a Sunni-dominated province in northwestern Iraq that could decide whether the charter has been approved.
Although the constitution appears headed for victory with overwhelming support from Shiites and Kurds, it could be scuttled by Sunni Arabs if they muster a two-thirds majority against in at least three of Iraq's 18 provinces.
Sunni Arabs, once powerful under Saddam but now on the political sidelines after largely boycotting elections in January, fear federalist provisions in the constitution could lead to the break-up of the country and leave Iraq's oil wealth in the hands of the majority Shiites and Kurds.
Violence has been relatively low since the October 15 referendum but on Sunday, 12 workers on a building site were killed and their foreman kidnapped, police said Monday.
The workers, who belonged to three families from the region, were working on the construction of a new government building in Jorf al-Sakhr about 50 kilometres (30 miles) south of Baghdad.
Security sources said another 13 Iraqis, including two small children, were killed on Sunday in a series of attacks across the country that also wounded more than 30 people, among them five US soldiers.
On Saturday, the US military announced the death of four of its troops in Iraq, moving the overall toll since the US-led invasion of March 2003 closer to the psychologically significant total of 2,000.
The latest deaths brought to 1,991 the number of US military personnel killed in Iraq, according to an AFP tally based on Pentagon figures.
In Washington, former US national security advisor Brent Scowcroft unveiled new evidence of divisions among Republicans over the Iraq war and particularly the role of Vice President Dick Cheney, The New Yorker magazine said.
Scowcroft said the promotion of US-style democracy should not be used as an excuse to use force abroad, as he launched a rare open attack on Cheney.
Arab League chief Amr Mussa is in Iraq to try to win support for a planned national reconciliation conference with the aim of weakening the deadly insurgency that has raged since the invasion.
Mussa, secretary general of the 22-member Arab League, won a standing ovation after addressing the Kurdish parliament on Sunday.
"I hope stability and security will reign in Iraq, and that fraternity and cooperation will prevail between its different communities," said Mussa, on his first visit to Iraq since the invasion.
"Iraqi Kurdistan is an important part not only of Iraq, but also of the Arab world and the Middle East."
On Saturday Mussa met with Kurdish regional president Massoud Barzani after holding talks in southern Iraq with the country's supreme Shiite religious leader, Grand Ayatollah Ali Sistani.
The Arab League secretary general had met Friday with the preeminent Sunni religious body, the Committee of Muslim Scholars, and several members of the government in Baghdad.
Meanwhile, a key witness dying of cancer gave testimony Sunday to the Iraqi court hearing murder and torture charges against Saddam over the 1982 massacre of 143 Shiite villagers after an attempt on his life.
Waddah Khalil, who occupied a key post at the time of the murders, testified before officials of the Iraqi Special Tribunal who were concerned the former top intelligence officer could soon die.
"His words were recorded and transcribed," an official told AFP, without providing details.
The trial against Saddam and seven former regime officials opened on October 19 and was adjourned until November 28, but a special session was held for Khalil because of his terminal disease.
Time magazine reported that Iraqi Deputy Prime Minister Ahmad Chalabi is to visit Washington in November at the invitation of US Treasury Secretary John Snow.
He could also meet with US national security adviser Stephen Hadley and perhaps US Secretary of State Condoleezza Rice, in what would mark a US political rehabilitation of the controversial formerly exiled Iraqi leader.