Beijing steps up efforts to fight bird flu
By Guo Nei (China Daily)
Updated: 2005-10-24 05:14
The Chinese capital has stepped up its efforts to fight bird flu by sending inspectors to farms, homes and migratory bird sanctuaries to enforce disease prevention controls.
The World Health Organization (WHO) said that although China has a strong political determination to tackle the problem and had stepped up monitoring efforts, more needed to be done at the local level.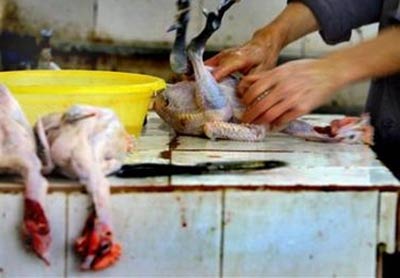 A Chinese vendor cleans a slaughtered chicken at a market in Nanjing, in east China's Jiangsu province, October 22, 2005. [newsphoto]
The stepped-up veterinary checks came after the Ministry of Health warned last week that a "danger of the fatal disease spreading to human beings exists."
The country's top leaders also warned that the country faces a "grave" threat from avian influenza, as both Asia and Europe try to contain the deadly virus.
Officials in Beijing have begun checking chickens, ducks, and geese and even carrier pigeons being raised as pets in the city to make sure they are properly vaccinated or isolated, the Beijing Youth Daily reported.
So far, around 98 per cent of the poultry raised on Beijing's farms has been vaccinated. Officials hope to increase that rate to 100 per cent in the coming days, the report quoted city agricultural officials as saying.
Poultry markets, slaughterhouses and zoos will also be monitored, and special attention will be paid to farms near sanctuaries for migratory birds, which are believed to have brought bird flu to several countries.
In Beijing, security was to be stepped up at airports, bus and train stations and at border crossings to prevent birds from infected areas reaching the capital, said the report.
Municipal officials were also taking steps to ensure there is an adequate stockpile of vaccines and disinfectants.
Southern China's Guangdong Province said it would set up a surveillance system to detect animal diseases quickly and prevent the spread to humans, the Beijing Youth Daily said in a separate report.
Elsewhere, Britain and Sweden are among the latest countries to report cases of the disease, while India and a host of African states are preparing for the arrival of migratory birds that may be carrying the virus.
The potentially fatal H5N1 strain of the virus has so far claimed the lives of more than 60 human victims, with the latest being a man in Thailand last week.
(China Daily 10/24/2005 page2)