US, South Korea hail North's nuclear pledge
(AP)
Updated: 2005-10-21 15:22
US Defense Secretary Donald H. Rumsfeld and his South Korean counterpart on Friday hailed a promise by North Korea to abandon its nuclear program, but they also cited "causes of significant concern" in the North's continued development of long-range missiles.
Rumsfeld also affirmed the US commitment to maintain a troop presence in South Korea, and he bristled at a suggestion that South Koreans increasingly believe they would be better off without the Americans.
"The Republic of Korea, an impoverished and devastated nation over a half-century ago, now has one of the world's most powerful economies and is an important democracy with a large and increasingly capable armed force," Rumsfeld told a news conference following 2 1/2 hours of annual defense talks.
These changing circumstances make it important for South Korea to take on a greater share of the burden for its own defense, Rumsfeld said, but Koreans should not dismiss the value of U.S. support.
"The United States of America has invested the lives of a great many Americans in helping the Republic of Korea to be free," he said in a joint appearance with South Korean Defense Minister Yoon Kwang-ung.
"We are a part of this alliance at the request of the Republic of Korea's government," he added.
In a joint statement issued after their talks, the U.S. and South Korean defense officials welcomed Pyongyang's promise in six-party talks to abandon its development of nuclear weapons, but added that concerns remain.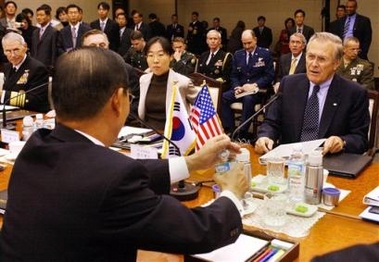 US Secretary of Defense Donald Rumsfeld, right, talks with South Korea's Defense Minister Yoon Kwang-Ung at the start of the 37th Security Consultative Meeting with at the Ministry of Defense on Friday, Oct. 21, 2005 in Seoul.[AP]

"Both sides noted that North Korea's continued development of weapons of mass destruction and long-range missiles, along with the danger of proliferation of those weapons and technologies, are causes of significant concern," the communique said.

It said they were hopeful it would "facilitate the verifiable nuclear dismantlement in order to realize the denuclearization of the Korean peninsula at the earliest opportunity."

During the talks, Rumsfeld and Yoon agreed to "appropriately accelerate discussions on command relations and wartime operational control." Seoul has been seeking control of the joint command of US as well as South Korean troops here during wartime, which traditionally has been in US control.

Rumsfeld said the US welcomes efforts by Korea to "take on more responsibility," but he reaffirmed on behalf of the United States its "continued provision of a nuclear umbrella" for Korea. That is a promise, also made to Japan, to use the US strategic nuclear arsenal as a deterrent force ¡ª or as an offensive weapon, if necessary ¡ª to preserve the South's independence.

The Pentagon has begun pulling thousands of US troops out of South Korea, where it has maintained a contingent of about 37,000 troops for decades amid concerns that North Korea might attempt to reunite the two Koreas by launching an attack.

Gen. Leon J. LaPorte, commander of US forces in Korea, told reporters Thursday evening that by the end of this year 8,000 of the 12,500 troops designated for withdrawal will have left South Korea.

Rumsfeld was asked during Friday's news conference whether Washington wanted to make further cuts.

"I know of no plans to do that," he replied.

Before the meeting Friday, Rumsfeld visited the cemetery where the Korean War dead are buried. He laid a wreath and paid respects in silence for a few minutes.

The US-South Korean defense alliance dates to the 1950-53 Korean War in which the United States and other UN member nations intervened on the South's side.

Substantial numbers of American troops have remained in South Korea since the war ended in a cease-fire. In recent years they have handed to the South Korean military more of the key missions designed to deter the North from invading and for preparing defenses in the event that deterrence failed.

LaPorte said that although the North is hampered by a weak economy and limited fuel resources, it remains capable of launching an attack that potentially could kill large numbers in the South.

"The North Korean threat has not changed," LaPorte said.