Defense lawyer in Saddam trial abducted
(Reuters)
Updated: 2005-10-21 06:30
BAGHDAD (Reuters) - A lawyer for one of Saddam Hussein's co-defendants was kidnapped on Thursday, a day after his client sat in the dock next to the former president on the opening day of their trial for crimes against humanity. Reuters reported.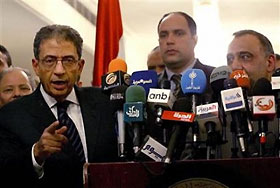 Arab League chief Amr Moussa (L) during a news conference in Baghdad October 20, 2005. Moussa, who has said Iraq is on the verge of civil war, held talks with Iraqi leaders on Thursday on a tough mission to promote national reconciliation in a country ravaged by violence. [Reuters]

Saadoun Janabi is defense counsel for former judge Jawad al-Bander, a senior legal source involved in the trial said.

"(He) was kidnapped this evening around 8:30 p.m. (1730 GMT) from his office, which is also his home, in the Shaab district by eight armed men," the source said.

Police and Interior Ministry sources confirmed the kidnapping. There was no immediate claim of responsibility.

Eight men arrived in two cars and forced Janabi from his upper-storey office at gunpoint, the police sources said.

Bander is a former top judge under Saddam who is charged, along with the ousted leader and six others, over the killings and executions of Shi'ite men from the village of Dujail after Saddam escaped an assassination attempt there in 1982.

As Janabi was being taken, Irish journalist Rory Carroll was freed, a day after he was seized while reporting on a Baghdad Shi'ite family watching the televised start of Saddam's trial.

A British government source said he believed Carroll was released after two Iraqi prisoners were freed in southern Iraq.

"I don't know who took me," Carroll told Reuters. "I'm fine. I was treated reasonably well," he said, adding he wanted to go on reporting on Iraq, though his immediate plans were unclear.

"I spent the last 36 hours in the dark," he said.