China step up efforts in bird flu fight
By Wang Zhenghua (China Daily)
Updated: 2005-10-21 05:44
As fears of a global pandemic rise, China is stepping up efforts to increase surveillance and improve responses to animal and human infections of bird flu.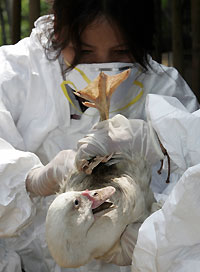 A Thai livestock official tests a duck at a farm in Nakhon Prathom province, south of Bangkok, on Wednesday. A farmer died from bird flu after contact with infected poultry, taking the country's death toll from the virus to 13, Thai Prime Minister Thaksin Shinawatra said yesterday.

It is also pondering measures such as stockpiling emergency materials, including anti-flu drug Tamiflu, in case the bird-flu virus mutates into a strain which is transmitted from human to human.

The latest alarm was in North China's Inner Mongolia Autonomous Region, where about 2,600 birds died following a recent outbreak caused by the deadly H5N1 strain of the virus, according to the Ministry of Agriculture.

At a State Council meeting, Vice-Premier Hui Liangyu called for intensified efforts to prevent, monitor and control the spread of bird flu.

He ordered government departments to focus on prevention and improve the emergency mechanism to face up to a possible outbreak.

"It's peak time for the bird flu outbreak. The situation is stark," he admitted.

He underscored the need for effective medical treatment plans if human cases of infection are spotted

Also yesterday, Foreign Ministry spokesman Kong Quan told a regular press briefing that China is concerned about the epidemic and has set up a nationwide monitoring network and pre-schemes for emergency. He said China has strengthened the quarantine of imports and exports to prevent the epidemic from spreading.