Nation's GDP up 9.4% on back of spending
By Su Bei (China Daily)
Updated: 2005-10-21 05:44
Rising consumer spending coupled with strong fixed-asset investment helped China's economy grow by a sizzling 9.4 per cent year-on-year in the third quarter, the National Bureau of Statistics (NBS) said yesterday.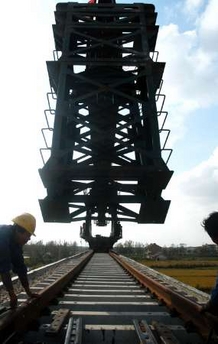 Chinese workers lay a railway in Pudong, Shanghai, October 20, 2005. China's economy expanded a faster-than-expected 9.4 percent in the third quarter from a year earlier and is showing little sign of cooling amid strong industrial output and investment. [newsphoto]

The gross domestic product, which stood at 10.6 trillion yuan (US$1.3 trillion) during the period, continued to maintain steady and rapid growth, NBS spokesman Zheng Jingping said.

The third quarter's figure follows similar stellar growth of 9.5 per cent in the second quarter and 9.4 per cent in the first.

Retail sales, an important indicator of consumption, rose 13 per cent year-on-year to 4.5 trillion yuan (US$554.8 billion) during the first three quarters of this year, as people increased spending on goods such as cars and mobile phones and services such as air travel.

Domestically-made passenger vehicle sales grew by 16.8 per cent in the first three quarters to 2.8 million units from a year ago.

The world's largest mobile-phone maker Nokia said its sales in China jumped 76 per cent to 7.4 million handsets in the second quarter.

China Eastern, the country's third-largest carrier, said yesterday that it flew 2.51 million passengers last month, 55 per cent more than a year earlier.

Zhuang Jian, a senior economist with the Asian Development Bank's resident mission in China, said sales were boosted by rising household incomes and stable prices.