China offers nuclear assurance to Rumsfeld
(AP)
Updated: 2005-10-20 20:02
The commander of China's nuclear missile forces told Defense Secretary Donald H. Rumsfeld on Wednesday that in an armed conflict China would not be the first to use nuclear weapons.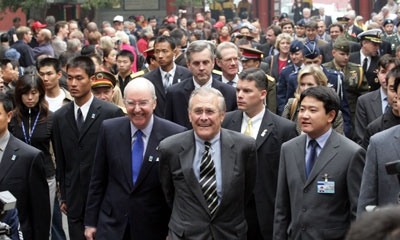 Visiting US Defense Secretary Donald H. rumsfeld visits the Summer Palace on October 20, 2005. [newsphoto]


Gen. Jing Zhiyuan, commander of the Second Artillery, which operates the country's arsenal of nuclear missiles, offered the assurance while hosting Rumsfeld as the first foreigner to visit his headquarters, according to two U.S. officials who participated in the meeting.

The officials briefed reporters afterward only on condition of anonymity because of the visit's sensitivity. They said Jing told Rumsfeld no foreigner had entered the command headquarters in its 39-year history. Rumsfeld signed a large, new and otherwise empty guest book.

The Chinese rejected a Rumsfeld request to visit their national military command center in the Western Hills.

Jing disavowed a recent public suggestion by another Chinese general that the United States could be targeted for a nuclear strike if it intervened in a conflict over Taiwan.