Oil price impact on China's economy 'limited'
(Xinhua)
Updated: 2005-10-20 13:22
Surging oil price will only have limited impact on China's economy, Zheng Jingping, spokesman for the National Bureau of Statistics (NBS), said in Beijing Thursday.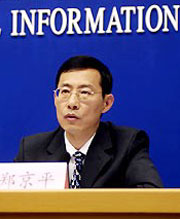 Zheng Jingping, spokesman for the National Bureau of Statistics, speaks at a press conference on China's economy in Beijing October 20, 2005. [CIIC]

"The oil price increase surely will have impact on China's economy as 40 percent of oil consumed in the country is imported," said Zheng at a press conference, "especially on some sectors, like agricultural means of production, oil refinery and public transport. But the impact is limited."

According to International Monetary Fund, the world oil price will rise by 40 percent over last year's level. The high price has caused impact on world economy.

Zheng said that China's total oil consumption is not high, accounting for eight percent of world total.

Besides, China has a lot of supplanting energy sources, like coal and natural gas.

China's utilization and development of natural gas has great potential, said Zheng, adding that currently, China's natural gas/crude oil consumption proportion stands at 0.24:1, compared with 1:1 in some foreign countries.

Coal consumption accounts for 75 percent of total energy consumption in China. The technology of coal converting to oil has been put into manufacturing process, said Zheng.

Zheng noted that though the impact is limited, China should be cautious and take measures to minimize the impact.

Zheng criticized the speculation on world oil market, saying that current high oil price is abnormal.

"The current oil price couldn't represents the relations between supply and demand," said Zheng." speculation has played a more important role in the increase of oil prices."

He noted that speculation of oil price has caused great attention from all over the world. If the speculation continues, it will do harm not only to China's economy, but also to the world economy. The speculators will also be affected when the bubbles break, said Zheng.