The death of a soulful hair salon girl
By Fu Jianfeng (southweekend)
Updated: 2005-10-20 08:57
The day is September 3. It is getting late at night, and the road next to the Lanzhou train station is getting deserted.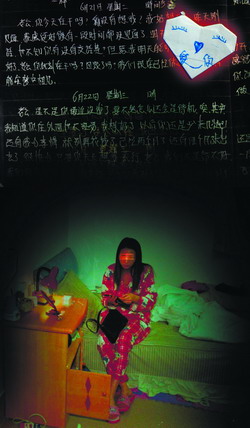 The diary of a murdered hair salon girl, also a sex worker, reveals her deep and fervent love towards her husband. [southcn.com]

At that moment, a man and a woman got out of the hair salon with the pink light on and walked into the railroad workers' dormitory across the street. The woman is Gou Li (pseudonym), 23 years old, round face, big eyes, always smiling. The man behind her had disheveled hair, old clothes, and the oil-stained legs of his pants were stuffed into his socks.

Gou Li is a working girl at the hair salon. At noon on this day, she had actually packed her baggage. She bade farewell to the owner of the sex equipment store next to the hair salon and said: "I now have the money that I needed urgently to repay my debt. So I won't be working as of tomorrow."

But the sex equipment store owner never imagined that this would be the last 'deal' with Gou Li. Late that night, Gou Li expired.

She was strangled to death while completely nude in her rented room. A bicycle braking wire was buried deep into her neck, and the man "with the legs of his pants stuffed in his socks" had disappeared.

Based upon this unique description, the Lanzhou police keyed on two types of people: one was workers who ride tricycles and the other was workers who moved steel bars. On September 15, after working twelve days and nights on this case, the Lanzhou police finally found a young man named Tang matching all those characteristics at a worksite. When the police found Gou Li's personal handy-phone system underneath his pillow, the young man broke down.

He told the police that he had killed the woman purely to release anger. In another city, he had patronized a prostitute and ended up being beaten up and robbed of 200 RMB. Therefore, he wanted to take revenge on all these girls.

Just when the police thought that they had closed the case, a new development created much sadness among the police officers. From the belongings of Gou Li, they found two diaries. Each page contained deep, longing thoughts for her husband.

"Stunning. It was stunning. Who would imagine that she was such a sentimental girl?" sighed a police officer.