Wilma lashes Caribbean coastlines; 13 die
(AP)
Updated: 2005-10-20 08:31
The fringes of Hurricane Wilma ¡ª which rapidly strengthened to one of the Americas' most intense storms ever ¡ª lashed Caribbean coastlines Wednesday, forcing tourists to flee and thousands to evacuate as it threatened to slam into Cancun and southern Florida.
At least 13 deaths have been blamed on the storm this week, including a man who drowned Wednesday while trying to cross a river that overflowed its banks in southern Haiti.
The National Hurricane Center in Miami warned that Wilma ¡ª packing 160 mph winds Wednesday afternoon, down from 175 mph earlier in the day ¡ª would be a "significant threat" to Florida by the weekend in a season that already has seen devastation from Hurricanes Katrina and Rita. Visitors were ordered out of the Florida Keys.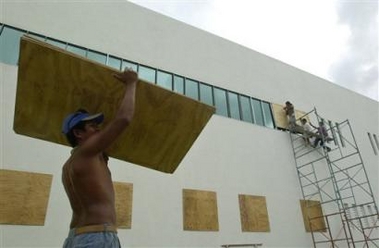 Workers board up the windows of a building in the resort city of Cancun, Mexico, in preparation for the arrival of Hurricane Wilma on Wednesday, Oct. 19, 2005.[AP]

Visitors were o rdered out of the Florida Keys even as schools closed and thousands of people were evacuated from low-lying areas in a 600-mile swath covering Cuba, Belize, Honduras, Jamaica, Haiti and the Cayman Islands.

The White House, stung by criticism that it had not responded quickly enough to Katrina, promised to stay on top of the situation. "We are closely monitoring what is an extremely dangerous storm," said White House spokesman Scott McClellan. "People should take this hurricane very seriously."

Tourists packed Cancun's airport even though skies were still partly sunny, looking for flights home or to other resorts. MTV postponed its Video Music Awards Latin America ceremony, originally scheduled for Thursday at a seaside park south of the resort town.

Mark Carara cut his family's vacation short by two days and tried to get on a standby flight home to Colorado Springs, Colo. "You hear it was the biggest storm on record, and yeah, that was the clincher right there," he said. "It was time for us to go."