Premier: GDP to exceed US$1.85 trillion in 2005
(chinadaily.com.cn)
Updated: 2005-10-20 08:27
China's gross domestic product (GDP) is expected to exceed 15 trillion yuan (US$1.85 trillion) in 2005, said Chinese Premier Wen Jiabao.
Records show China's 2004 GDP stood at 13.65 trillion yuan (US$1.69 trillion).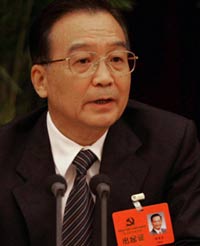 Premier Wen Jiabao describes China's goal of doubling its year 2000 per capita GDP figure by 2010 as "active and prudent." [Xinhua]

Wen was citing a figure from the National Bureau of Statistics as he addressed the Chinese Communist Party's annual plenary session last week in Beijing, which adopted the 11th five-year program for economic and social development for the coming five years.

China's economy expanded at 9.5 per cent in the first half of this year and is widely expected to see only a slight slowdown in 2006.

Wen described China's goal of doubling its year 2000 per capita gross domestic product (GDP) figure by 2010 as "active and prudent." He also said the goal of reducing energy costs per unit GDP by 20 per cent in the coming five years "achievable."

This reflects the requirement for the building of an energy-saving and environmentally-friendly society and sustainable development, he said.

Although the Party meeting took place a week ago, Wen's comments were released Wednesday by the official Xinhua News Agency.

Fiscal income is expected to stand around 3.0 trillion yuan in 2005 -- 1.3 times more than that in 2000 -- and full-year bilateral trade is forecast to exceed 1.38 trillion dollars.

Wen said China should further expand its domestic consumption and expand its overseas market to sustain its economic growth.

"We must base ourselves upon expanding domestic demand, a long-term strategic policy that we must stick to," he was quoted as saying.

Wen said the country's economic strength has greatly improved over the past five years but it is also facing increasing external uncertainties such as surging international oil prices and further trade protectionism.

Meanwhile, there are still many structural problems with China's economic and social systems, including uneven development in rural and urban areas, a growing income gap between rich and poor, as well as mounting pressure on resources and a deteriorating environment.

In his speech, the premier called for more efforts to build a harmonious society, saying that employment, social security, poverty reduction, education, medical care, environmental protection and safety will be given priority.

He said that employment will remain a tough issue for a long period of time to come, so China has to carry out pro-active employment policies and try every means to create job opportunities.

On social security, the premier called for further efforts to improve the pension system, basic medical care, unemployment, industrial injuries and maternity care, to earnestly resolve the social security issue for migrant farmer workers in cities, and to set up a security system of minimum living standards for rural areas.