Olympic commitment held aloft in space
By Zhao Huanxin (China Daily)
Updated: 2005-10-20 05:30
An Olympic flag that orbited the Earth for five days with two Chinese astronauts was unwrapped from the returned capsule yesterday in Beijing a "flag-waving" show of China's commitment to the 2008 Games.
The move was hailed by President of the International Olympic Committee Jacques Rogge.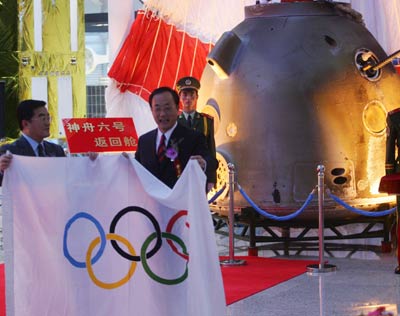 Officials display an IOC flag retrieved from the re-entry capsule of the Shenzhou VI spacecraft Wednesday October 19, 2005 in Beijing. [newsphoto]
"By taking the Olympic flag into outer space, you have shown the entire world the commitment and involvement of the People's Republic of China in the promotion of the Olympic values and ideals," he said in a congratulatory letter read at the ceremony.
"We all look forward towards the successful hosting of the XXIX Olympiad in 2008 in Beijing," he said.
Executive Vice-President of the Organizing Committee for the Games of the XXIX Olympiad Liu Jingmin said the triumph of China's second manned mission will inspire and encourage Beijing to strive for a successful Olympics.
The five-ring flag was among a host of closely-wrapped packages removed from the tightly-guarded return capsule at a hall of Shenzhou VI's developer the Chinese Academy of Space Technology yesterday afternoon.