Aiming for moon? You can get a piece of it
By Jiang Zhuqing (China Daily)
Updated: 2005-10-20 05:30
China may be years away from a lunar landing but one company is offering a piece of "land" there right now.
The so-called Lunar Embassy, through which one can purchase an acre on the moon for 298 yuan (US$37), started operations yesterday in Beijing.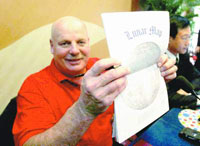 Dennis Hope, a US entrepreneur who founded the first extraterrestrial estate agency Lunar Embassy, shows a map of the moon in Beijing October 19, 2005. [stardaily.com.cn]

Li Jie, chief executive officer of Beijing Lunar Village Aeronautics Science Co Ltd, said his company is the sole agent in China for US-based Lunar Embassy.

The area? Between 20 and 24 degrees latitude north and 30 to 34 degrees longitude west, the company says.

Lunar Embassy will issue customers a "certificate" that ensures property ownership including rights to use the land and minerals up to 3 kilometres underground, Li said.

"We define it as a kind of novelty gift with the potential of unlimited increase in value," said Li, who was nominated as the agent in China by Dennis Hope, a US entrepreneur who founded the first extraterrestrial estate agency Lunar Embassy in 1980, 11 years after the Apollo II mission first landed people on the moon.

Hope, self-anointed "Head Cheese" of the Lunar Embassy, thinks a loophole in the 1967 UN Outer Space Treaty makes his property sales legitimate. The agreement forbids governments from owning extraterrestrial property, but fails to mention corporations or individuals.

"I have 3.5 million customers including ex-US presidents Ronald Reagan, Jimmy Carter and movie stars who have purchased land on the moon," said Hope at a press conference yesterday in Beijing. China is the eighth country to have a Lunar Embassy after the United States, Germany, Britain, Ireland, Australia, New Zealand and Japan, he said.

And there appear to be at least some moonstruck people in China Li told reporters that he had received more than 400 telephone orders in the past few days.

Meanwhile, not all believe that the trading is legal; and some even regard it as fraud or a joke.

"It is sheer speculation," said Xia Xueluan, a sociologist with the Peking University, adding that many countries are speeding up research on lunar exploration, but no single person has the entity right to own property.

Besides, the Chaoyang District branch of Beijing's Administration for Industry and Commerce has launched an investigation into the company, according to media reports.

The Chaoyang bureau staff said sale of land on the moon was not listed as the company's business when it was registered, and they would consult space and aeronautic authorities on laws or regulations before they rule on the legitimacy of the company's practice, reported Beijing News.

Li counters by saying that his company was registered on September 5 after finishing all necessary commercial and industrial registration procedures.

He also told reporters that Lunar Embassy had contacted the Chinese Society of Astronautics, which is the only national organization of its kind in China, to seek co-operation.

But an official with the society denied the assertion.

"We did contact the company but decided not to continue with the matter because we believe purchasing lunar land is not feasible," said the official who did not want to be identified.

(China Daily 10/20/2005 page1)