Earthquake death toll rises to 79,000
(AP)
Updated: 2005-10-19 19:32
MUZAFFARABAD, Pakistan - Two strong aftershocks from South Asia's deadly earthquake shook the devastated region on Wednesday, unleashing landslides and setting off another wave of panic among survivors who lost loved ones and homes in the Oct. 8 disaster. A new tally from regional officials pushed the death toll to 79,000.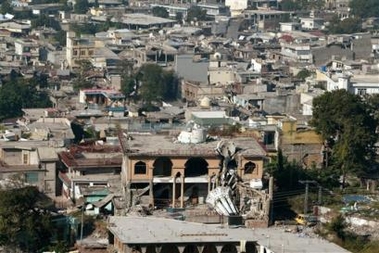 A view of destruction caused by the Oct 8 masssive earthquake in Muzaffarabad, capital of Pakistani Kashmir, Wednesday, Oct. 19, 2005. A halt in heavy rains allowed helicopter relief flights to resume across Pakistan's quake zone, but fresh landslides hampered efforts to move supplies by road and officials estimated the death toll could now be more than 54,000. [AP]
Despite brisk sorties of helicopters delivering aid to quake victims, an estimated half-million survivors, many of them in Pakistan's portion of Kashmir, have yet to receive any help since the monster 7.6-magnitude quake leveled entire villages. Thousands need urgent medical care.
The situation is the most dire in the estimated 1,000 settlements outside the main cities and towns, said regional U.N. disaster coordinator Rob Holden.
"Many people out there, we are not going to get to in time," Holden said. "Some people who have injuries don't have a chance of survival."