Panda named; Tai Shan means 'Peaceful Mountain'
(Reuters)
Updated: 2005-10-19 08:59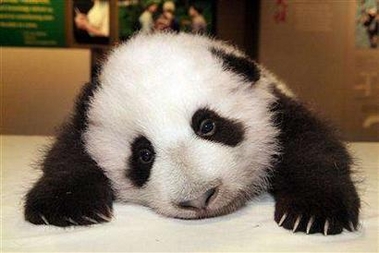 File photo of male giant panda cub after receiving a vaccination at the Smithsonian's National Zoo in Washington, DC, September 30, 2005. The National Zoo celebrated the 100-day-old mark of the cub Tai Shan on October 17, 2005, with a naming ceremony punctuated by drum, gong and Chinese lion dancers. [Reuters]


Washington's giant panda cub got his name -- Tai Shan, or ``peaceful mountain'' -- on his 100-day birthday at the Smithsonian National Zoological Park. He's only the third giant panda born in the US to reach that milestone.

The cub's name was chosen by an Internet vote of 202,000 people from around the world. It was announced today by officials from the zoo and from China, home to the world's endangered panda population. The panda has the same name as Mount Taishan in central Shan Dong province, one of China's most famous and sacred mountains.

The name also means ``majestic, strong and great'' and ``represents great health and long life,'' said Yan Xun, deputy director of the conservation department at China's State Forestry Administration. ``Giant pandas are a valuable resource in China and a great gift to the world. I hope Tai Shan has a long and prosperous life.''

The cub was born July 9 to mother Mei Xiang, which means ``beautiful fragrance,'' and father Tian Tian, or ``more and more,'' ending three decades of dashed hopes in the nation's capital. He is the first born at the zoo to live longer than a few days and only the third to survive in the United States, though a fourth panda, a female, was born in San Diego on Aug. 2. It's a Chinese tradition to name pandas on their 100th day.

Tai Shan wasn't there for the festivities, which included Chinese dancers and activities for children. He remains in a den and exhibit enclosure with his mother and is brought out only for veterinary checkups, while the public is allowed to watch him around the clock over the zoo's Internet ``Pandacam.'' Zoo officials say they expect Tai Shan to make his public debut in the zoo's panda exhibit in December.

Vote Winner

Rod Sallee, 61, a US Forest Service worker from Harpers Ferry, West Virginia, today became the first non-zoo person to visit the cub's enclosure after his name was selected from those who participated in the vote conducted by the Friends of the National Zoo. Voters chose from five suggested names, and the winning choice got 44 percent of the vote.

Tai Shan crawls and is just starting to walk. The cub was particularly active today, rolling and playing with his mother, according to images shown on the Pandacam. The camera is sponsored by the Discovery Communications Inc.'s ``Animal Planet'' television show, which has been filming the pandas since 2001 for a documentary.

The cub, who was just the size of a stick of butter at birth and was informally called ``Butterstick'' by Internet fans, is now about 13 pounds and 25.5 inches long. He's gaining about a pound a week and is larger than other baby pandas at his stage.

`Ahead of the Curve'

``His growth rate is ahead of the curve, but remember, we don't have a lot of data,'' said Lisa Stevens, the assistant curator who manages the panda exhibit. ``Of course, we say we know that our cub is more advanced than any other cub.''

The cub won't be shown to the public until Mei Xiang is ready, Stevens said. In recent days Zoo officials have several times moved Tai Shan to areas outside the den, and each time Mei Xiang almost immediately grabbed him and put him back, the zoo reported on its Web site.

Still, the cub is starting to show signs of independence. On Oct. 15, Mei Xiang was on her platform when the cub looked up, touched noses with his mother and then swatted her. Mei Xiang came down, picked him up in her arms and then was swatted again by her squirming baby, according to zoo officials.

``Pretty soon he'll be so rambunctious that she'll have trouble keeping up with him,'' Stevens said.

Tai Shan is owned by China and will stay in Washington for two years before he's sent to that country to become part of its efforts to save the endangered species. There are only about 1,600 pandas in the world, including 160 in captivity, and the Chinese government keeps strict oversight of the animals as part of a global research and breeding program.

$10 Million

Washington paid $10 million over 10 years, through 2010, to keep Mei Xiang and Tian Tian. They replaced the zoo's previous panda pair, Ling-Ling and Hsing-Hsing, who died during the 1990s after never producing a cub that survived more than a few days. The two were donated by the Chinese government in 1972 to mark President Richard M. Nixon's historic visit to China.

Japan's Fuji Photo Film Co., the world's second-biggest maker of photographic film, donated $7.8 million of the $10 million. Discovery Communications, based in nearby Silver Spring, Maryland, and private donations covered the rest.

The San Diego Zoo's baby panda is the third born there, all from mother Bai Yun, and all have survived. That zoo also is having a naming contest. Zoos in Atlanta and Memphis, Tennessee, also have panda pairs.