PetroKazakhstan shareholders OK CNPC bid
(Reuters)
Updated: 2005-10-19 08:43
CALGARY, Alberta - PetroKazakhstan shareholders have overwhelmingly approved an offer by China's CNPC to buy the Canadian company for $4.2 billion, setting the stage for the deal to be completed after weeks of political wrangling and uncertainty.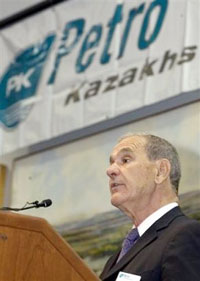 PetroKazakhstan chairman Bernard Isautier speaks to shareholders in Calgary about the sale of the company on Tuesday, Oct. 18 2005. Shareholders of Canadian oil company PetroKazakhstan Inc. on Tuesday voted overwhelmingly in favor of a $4.2 billion takeover offer from China National Petroleum Corp. [AP]

At a meeting in Calgary on Tuesday, 99.04 percent of PetroKazakhstan shareholders voted in favor of China National Petroleum Corp.'s $55 a share bid for the Calgary-based company, which produces and refines oil solely in Kazakhstan.

The offer still requires approval by an Alberta judge, who is slated to make a ruling later on Tuesday.

Investors enthusiastically backed the deal with the Chinese state oil firm after tough talk and a series of legislative moves in Kazakhstan that looked set to scuttle it -- until this week.

The stock climbed 21 cents to $54.56 on the New York Stock Exchange. In Toronto, it was up 29 Canadian cents at C$64.39.

PetroKazakhstan has often had strained relations with the former Soviet republic's government, but chief executive Bernard Isautier declined to comment on them or the recent legislative developments.

Isautier, who lifted the company from an insolvent penny stock six years ago, acknowledged investors had weathered volatility and stress during its tenure in Kazakhstan, but said he was always confident the deal would get done.

"We felt that this agreement was extremely solid and at all times we have maintained that position," he told reporters.

The French-born executive has led several Canadian companies. He aims to start another energy concern in central Asia, although a noncompetition agreement prevents him from investing again in the Kazakh oil sector.

CNPC, which has been on the hunt for foreign energy assets to help meet China's immense demand, launched its bid in August following an auction in which India's Oil and Natural Gas Corp. was also a suitor.