Snow urges faster China reform
(Reuters)
Updated: 2005-10-19 07:14
China could accelerate its shift to a market-based economy by giving foreign firms a freer hand in its financial services sector, U.S. Treasury Secretary John Snow said on Tuesday.
Speaking to the Securities Industry Association at the close of a week-long visit to China, the U.S. Treasury chief said China now was committed to a more flexible currency.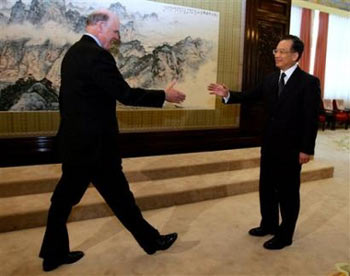 U.S. Treasury Secretary John Snow, left, shakes hands with Chinese Premier Wen Jiabao during their meeting in Beijing Monday, Oct. 17, 2005. [AP]
But it also needed more access to financial services and a more robust capital market to keep its economy expanding.
"China can quickly move forward with further liberalisation of its financial services sector by allowing foreign securities firms to establish wholly owned subsidiaries, and by expanding the scope of products securities firms can offer," Snow said.
His remarks amplified a theme Snow has been developing during his travels from the coastal hub of Shanghai to the western city of Chengdu and the capital, Beijing: that the economic dialogue with China needs to focus on more than currency issues to include less restriction on operations of U.S. banks, insurance and securities firms in China.
Speaking shortly after Snow, Chinese securities regulator Shang Fulin said the country was committed to opening up its financial markets, but added that reform would be gradual to avoid shocks to the economy.
"Fair competition and a win-win situation is our objective. But we should go about opening our capital markets in a sound and cautious way, to protect our own industries and the stability of China's economic growth," Shang said.
"Opening of financial markets should be mutually beneficial, but at the same time, developing countries face more competition and risk."