Saddam lawyer to seek 3-month adjournment
(AP)
Updated: 2005-10-19 07:04
Nearly two years after his capture, Saddam Hussein is finally facing trial for alleged crimes against fellow Iraqis. In some ways, Iraq also will be on trial, with the world watching to see whether its new ruling class can rise above politics and prejudice and give Saddam a fair hearing.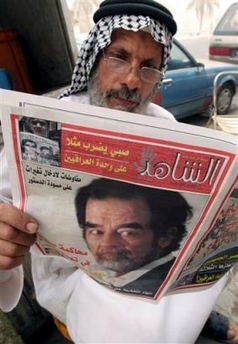 An Iraqi man reads a paper carrying a picture of ousted Iraqi leader Saddam Hussein on its front page in Baghdad, Iraq, Monday, Oct. 17, 2005. Saddam Hussein's trial will start on Oct. 19, 2005. [AP]

Saddam's lawyer said Tuesday he would ask for a three-month adjournment at his client's trial for a 1982 massacre, and challenge the court's competence to hear the case. The trial was to begin on Wednesday.

Khalil al-Dulaimi's comments appeared to suggest that his defense strategy will focus not on the details of the massacre but rather on the broader question of the legitimacy and competence of a court set up under U.S. occupation in 2003. Iraq formally became a sovereign nation again in June 2004, but the United States continues to wield vast influence.

Saddam and seven senior members of his regime are facing charges that they ordered the killing in 1982 of nearly 150 people in the mainly Shiite village of Dujail north of Baghdad after a failed attempt on the former dictator's life.

The ousted Iraqi leader and his co-defendants were expected to hear the charges against them in Wednesday's session. The session was to be held under tight security in Baghdad's heavily fortified Green Zone, home to Iraq's government, parliament and the U.S. and British Embassies.

If convicted, the men face the death penalty ¡ª by hanging.

Prosecutors are preparing other cases to bring to trial against Saddam and his officials ¡ª including for the Anfal Operation, a military crackdown on the Kurds in the late 1980s that killed some 180,000 people; the suppression of Kurdish and Shiite revolts in 1991; and the deaths of 5,000 Kurds in a 1988 poison gas attack on the village of Halabja.

If a death sentence is issued in the Dujail case, it is unclear whether it would be carried out regardless of whether Saddam is involved in other trials. He can appeal a Dujail verdict, but if a conviction and sentence are upheld, the sentence must be carried out within 30 days. A stay could be granted to allow other trials to proceed.