China postpones Japanese FM's trip
By Qin Jize (China Daily)
Updated: 2005-10-19 06:01
China yesterday postponed a planned visit by the Japanese foreign minister in response to Prime Minister Junichiro Koizumi's visit to the Yasukuni shrine, a symbol of militarism.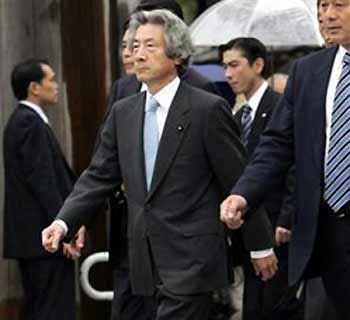 Japanese Prime Minister Junichiro Koizumi arrives at the Yasukuni Shrine in Tokyo Monday, Oct. 17, 2005.[AP]
Japan's Foreign Minister Nobutaka Machimura was scheduled to arrive in Beijing on Sunday for a two-day visit.
However, "given the current situation, it is not the proper time for such a visit and it is not convenient for China to receive him," Foreign Ministry spokesman Kong Quan said.
Beijing has repeatedly called on Tokyo to do more to atone for its war atrocities. It lodged a strong protest on Monday immediately after Koizumi's visit to the shrine, where 14 Class A war criminals of World War II are honoured.
The visit, the fifth during Koizumi's term as prime minister which began in 2001, prompted a furious protest from China, with Kong calling it "a damage to the political foundation of Sino-Japanese relations."
Despite the protest, nearly 200 Japanese lawmakers prayed at the notorious shrine yesterday, one day after Koizumi's visit.
The group included leaders of the ruling Liberal Democratic Party and a handful of opposition lawmakers.