China cancels foreign minister Japan trip
(AP)
Updated: 2005-10-18 19:44
China on Tuesday canceled a scheduled visit by Japan's foreign minister hours after Tokyo's top diplomat pledged to try using the talks to ease tensions inflamed by Prime Minister Junichiro Koizumi's visit to a controversial war shrine.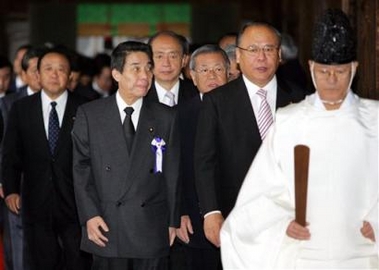 Ruling Liberal Democratic Party lawmakers, lead by party's Secretary-General Tsutomu Takebe, second from right, visit Yasukuni Shrine Tuesday morning, Oct. 18, 2005 in Tokyo. Early Tuesday, dozens of lawmakers from Koizumi's ruling Liberal Democratic Party and opposition parliamentarians were following suit, despite angry protests from Beijing and Seoul. A group of about 200 national lawmakers were scheduled to visit Yasukuni to pay respects to the war dead for a fall festival, shrine official Yoko Tokoro said. [AP]
"Given the present situation, the visit is not timely," Chinese Foreign Ministry spokesman Kong Quan said of the planned weekend trip to Beijing by Foreign Minister Nobutaka Machimura.
"We are not in a position to receive this visit," Kong said.
Beijing has repeatedly called on Tokyo to do more to atone for its World War II invasion of China and reacted with fury to Koizumi's visit Monday to the Yasukuni Shrine, which critics say glorifies Japan's militaristic past.
Machimura tried to contain the diplomatic damage Tuesday, even as nearly 200 other Japanese lawmakers and aides followed Koizumi's example by paying their own follow-up visits to the shrine.
Koizumi's shrine visit complicates already tense relations with Asian neighbors over territorial disputes and Japan's approval of history textbooks that opponents say whitewash its World War II-era atrocities.
It also chills the air at a time when Japan is seeking cooperation from China and South Korea in resolving the standoff over North Korea's nuclear weapons.
Trade Minister Shoichi Nakagawa played down any negative economic impact.
"I admire Mr. Koizumi, who stood by his beliefs," Nakagawa said. "All China has to do is show a mature reaction. It's not for us to predict whether (the visit) had an effect or not."
About 100 lawmakers prayed at the shrine on Tuesday, joined by 94 aides representing legislators.
Koizumi's visit was his fifth since becoming prime minister in April 2001, despite a recent court ruling that the visits violate Japan's constitutional division of religion and state.
In Seoul, South Korean Foreign Minister Ban Ki-moon summoned Japanese Ambassador Shotaro Oshima on Monday to express his country's "deep regrets" over the visit.
The prime minister defended the visit, saying he went to Yasukuni to express Japan's resolve not to go to war again.
Ruling party lawmaker Masatoshi Kurata told reporters at Yasukuni that the visit Tuesday was to mourn for the war dead and pray for global peace.
Japan's 2.5 million war dead are worshipped as deities at Yasukuni, which follows Japan's native Shinto religion. They include convicted war criminals executed by the Allies after World War II such as wartime Prime Minister Hideki Tojo. The shrine also runs a museum that attempts to justify Japan's wartime aggression.