Iraqi court to open Saddam trial Wed.
(AP)
Updated: 2005-10-18 19:07
BAGHDAD, Iraq - Saddam Hussein and seven senior members of his 23-year regime will go on trial Wednesday to face charges they ordered the 1982 killings of nearly 150 people from the mainly Shiite town of Dujail following a failed attempt on Saddam's life.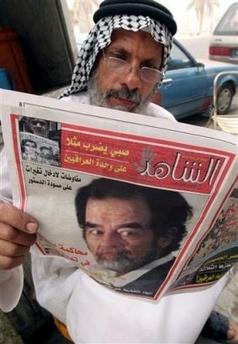 An Iraqi man reads a paper carrying a picture of ousted Iraqi leader Saddam Hussein on its front page in Baghdad, Iraq, Monday, Oct. 17, 2005. Saddam Hussein's trial will start on Oct. 19, 2005. [AP]
Court officials have said they are trying Saddam on the Dujail massacre first because it was the easiest and quickest case to put together. Other cases they are investigating — including a crackdown on the Kurds that killed an estimated 180,000 people — involve much larger numbers of victims, more witnesses and more documentation.
If convicted, Saddam and his co-defendants could face the death penalty, but they could appeal before another chamber of the Iraqi Special tribunal.
Saddam and his co-defendants are expected to hear the charges against them during Wednesday's hearing, and the court will address procedural matters. The trial is then expected to be adjourned for several weeks.
Prime Minister Ibrahim al-Jaafari complained Monday that the Iraqi court took an unjustifiably long time to prepare its case and brushed aside concerns that the court could be biased against the former dictator.
"I don't think there are any more clear-cut crimes in the world than those committed by Saddam," said the Shiite Muslim leader, five of whose close relatives, including an older brother, were executed by Saddam's regime in the 1980s and 1990s.
He underlined, however, that the deaths in his family did not mean that he would get a sense of personal satisfaction if the former dictator is eventually executed.
"I try to forget what happened to my brother and my cousins. It is never an issue of revenge or personal malice," al-Jaafari said during a 2 1/2-hour meeting with journalists over "iftar," the sunset meal Muslims eat to break their fast during the month of Ramadan.
Al-Jaafari's Shiite Dawa Party was blamed by the toppled regime for the attempt on Saddam's life in Dujail, a Dawa stronghold. Of the estimated 17 party members who opened fire on Saddam's motorcade, eight were killed in a shootout with troops from Saddam's elite Republican Guard. Nine others escaped and fled to Iran.
Al-Jaafari, who took office in April as the head of a Shiite-Kurdish coalition, said he wanted Saddam to have a fair and open trial, but made it clear that he preferred the proceedings not drag on.
Saddam's regime was toppled in April 2003, but the former dictator was on the run for eight months before U.S. troops captured him near his hometown of Tikrit. He has since been kept in a U.S.-run facility thought to be at or near Baghdad International Airport.
At the meal with journalists, Al-Jaafari quoted classical Arabic poetry and praised the ideas of America's founding fathers. He also thanked the United States for ridding Iraq of Saddam, supporting the country's transition to democratic rule and its leadership of the war on terror.
"Saddam is gone and we are moving ahead while he is part of the past," he said. "His case doesn't belong to just one nation, but the whole world. Iraqis would like to see justice done."
Al-Jaafari said he was puzzled, though, by what he described as the long time it took the Iraqi Special Tribunal to compile evidence against Saddam in the Dujail case.
"If we are to do a research project on Saddam's crimes, it will take a century to complete," he said.
"The Dujail case took enough time," he lamented. "Any more delay will bring Iraq, the judiciary and the government into question. It's the right of every Iraqi citizen to ask why it took so long to prepare the Dujail case."
Asked whether his comments could be seen as an attempt to influence the court to speed up its proceedings, al-Jaafari said: "I am not interfering in the court's business and I am not trying to put pressure on the court or influence it. On the contrary, I want it to exercise its authority both seriously and with transparency."
The Iraqi Special Tribunal that will try Saddam was set up during the U.S.-led occupation of Iraq, which formally ended in June 2004. Although its statute was endorsed by Iraq's democratically elected parliament, critics have questioned the court's legitimacy.
Last week, the New York-based Human Rights Watch warned that the tribunal "runs the risk of "violating international standards for fair trials."
"In Iraq's fragile political climate, the legitimacy of the court will be in question," it said in a statement. There have also been demands that Saddam be tried before the International Criminal Court in The Hague, Netherlands.
Al-Jaafari rebutted these complaints, arguing that Saddam's crimes were mostly against the Iraqi people, so he should be tried by Iraqis.
"Why cannot a man who committed crimes against his own people be tried by the same people? Iraq's judiciary is just."