US calls for financial sector modernization
(chinadaily.com.cn)
Updated: 2005-10-18 11:03
After China affirmed commitment to enhance currency flexibility and gradually move towards a fully market regulated yuan regime, U.S. Treasury Secretary John Snow shifted his demands for immediate yuan revaluation to a broader call for Chinese financial modernization.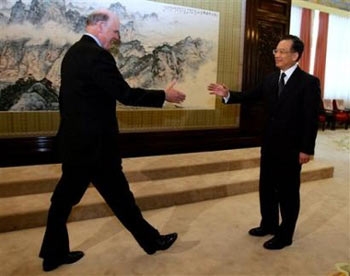 U.S. Treasury Secretary John Snow, left, shakes hands with Chinese Premier Wen Jiabao during their meeting in Beijing Monday, Oct. 17, 2005. [AP]
Snow's loud call for China to reform its system of banking and investment is beneath an obvious belief to seek more opportunities for American businesses.
Snow's new stance, according to a report of The New York Times, sounded bolder and more ambitious, a demand for China to clean up its state-owned banks, build a sophisticated market for trading currencies, and let Wall Street firms become full-fledged players in China.
Concluding the 17th Session of the China-US Joint Economic Committee in Beijing, China and the United States agreed that exchange rate policy was a sovereign decision, but can have a global impact.
Excess volatility and disorderly movements in exchange rates are undesirable for economic growth, the two countries officials reaffirmed in a joint statement.
For two years, Snow has pushed and prodded Chinese authorities to let its currency float more freely. On Monday in Beijing, he declared his satisfaction and changed the subject.
By closely linking the narrow issue of the currency to long-term goals of China's "financial modernization," the Bush administration has come to realize that China could only adopt a floating exchange rate gradually in a span of several years.