Merkel rivals to join German cabinet, talks start
(Reuters)
Updated: 2005-10-18 10:02

German chancellor-designate Angela Merkel named several leading conservative rivals to join her cabinet on Monday as power-sharing talks expected to last several weeks began with the Social Democrats (SPD).

As coalition negotiations between Merkel's Christian Democrats (CDU) and the SPD got under way, her conservatives named respected CDU veteran Wolfgang Schaeuble to head the Interior Ministry, a position he also held under former Chancellor Helmut Kohl.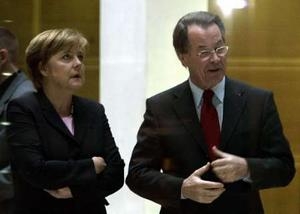 Angela Merkel (L) leader of Germany's conservative Christian Democratic Union party (CDU) chats with Franz Muentefering of the SPD prior to the coalition talks in Berlin October 17, 2005.[Reuters]

Schaeuble, 63, whose relations with Merkel grew strained when she helped oust him as CDU leader in 2000 amid a party funding scandal, is joined in the cabinet by Edmund Stoiber and Horst Seehofer, top figures in the CDU's sister party, the Christian Social Union (CSU).

Both Stoiber, 64, who is slated to become economy minister, and Seehofer, 56, who was named agriculture and consumer protection minister, have a history of clashes with Merkel.

Seehofer resigned abruptly from his post as deputy leader of the joint CDU/CSU parliamentary group one year ago after a battle with Merkel over health reform.

In recent days she tried to get another CSU politician, Michael Glos, named as defense minister to prevent Seehofer's appointment, but CSU chief Stoiber blocked that move.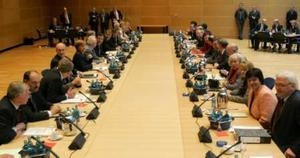 Germany's conservative Christian Democratic Union party (CDU) delegation (L) and Social Democrats (SPD) delegation (R) start their first round of coalition talks at the Social Democrats headquarter in Berlin October 17, 2005. [Reuters]

Merkel has a history of sidelining party rivals and that has left her with few experienced conservative allies for top posts. Her party's unexpectedly poor result in a September 18 election also curbed her ability to dictate who will be in her team.

"I expect this cabinet to work as a team," Merkel told reporters as the ministers were unveiled.