Bush to visit Japan, China, South Korea, Mongolia
(AFP)
Updated: 2005-10-18 09:12
Amid worries about North Korea's nuclear weapons and outbreaks of bird flu, US President George W. Bush will visit Japan, South Korea, China and Mongolia in November, his spokesman said.
The trip will be anchored on the November 18-19 Asia-Pacific Economic Cooperation (APEC) forum summit in the South Korean city of Busan, where Bush will also hold one-on-one meetings with world leaders, said spokesman Scott McClellan.
While Bush has traveled to Japan, China and South Korea before, it will be his first trip to Mongolia as president. Aides say he wants to emphasize the rise of Mongolian democracy, which is less than two decades old.
The president will start in Japan, where he will arrive November 15 and meet with Japanese Prime Minister Junichiro Koizumi a day later.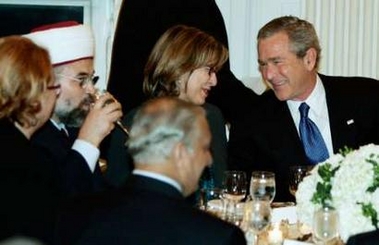 U.S. President George W. Bush (R) shares a light moment with guests including Imam Talal Eid (2nd-L) at an Iftar dinner with ambassadors and Muslim leaders in the State Dining room of the White House in Washington, October 17, 2005.[Reuters]

Bush then heads to South Korea, where he will meet with South Korean President Roh Moo-Hyun November 17 in the city of Gyeongju and attend the two-day summit, where he hopes to make progress on lowering trade barriers.

McClellan declined to say what leaders Bush would meet on the sidelines of the APEC meeting, telling reporters that the president's final schedule was still being worked out.

The United States, Russia, Japan, China and South Korea have been in talks with North Korea in a bid to convince Pyongyang to give up nuclear weapons in return for increased acceptance in the international community.

After the APEC summit, Bush heads to Beijing on November 19 to meet with Chinese President Hu Jintao, who invited him to visit when the two last saw each other, on the sidelines of a September UN summit in New York.

On November 21, Bush will travel to Mongolia to meet with President Nambar Enkhbayar, a former prime minister and a leading member of the ex-communist Mongolian People's Revolutionary Party (MPRP), who won the presidency in May.

McClellan has declined to say thus far whether Bush has had a flu vaccine this year, or whether he will be taking any particular health precautions in light of the spread of potentially deadly avian influenza.

Fear about the Asian strain of the deadly bug spreading across Europe has spiked in the past week after it was detected on the continent for the first time.

The H5N1 virus, which has killed 60 people in the Far East, was confirmed in Romania on Saturday only two days after it was also identified in Turkey.

Bush is expected to travel to Brazil and Argentina in early November, and to India in early 2006.