Contemporary literature master Ba Jin dies at 101
(Xinhua)
Updated: 2005-10-18 08:36
Ba Jin, one of China's leading exponents of contemporary literature, died in Shanghai 7:06 pm Monday after a six-year battle with malignant mesothelium cell tumor and other diseases. He was 101.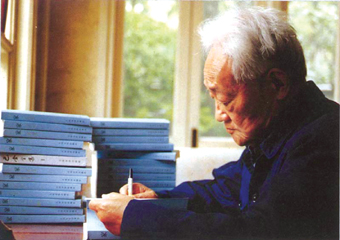 Ba Jin died in Shanghai yesterday afternoon. He was 101. [baidu]


Ba, a native of Chengdu, southwestern Sichuan Province, was recognized widely as one of China's greatest literary masters and an outstanding publisher and editor.

Ba went to study in France in 1926 and completed his first novel "Destruction" there. He wrote numerous books, including novels, short stories, and essays, totaling some six million words.

Ba's main works, including "Family," "Spring," "Autumn," "The Trilogy of Love," "A Dream of Sea," "Autumn in Spring," were viewed as landmarks of modern Chinese culture.

Ba's real name was Li Fugan. He chose the pen name "Ba Jin" in memory of Baranpo, one of his schoolmates in France who committed suicide because he detested the world and its ways, whereas the word "Jin" was proposed by his Russian schoolmate studying philosophy.

Ba was elected a deputy to the 1st through the 5th National People's Congresses (NPC) and a member of the Standing Committee of the 5th NPC and vice chairman of the 6th, 7th and 8th National Committees of the Ninth the Chinese People's Political Consultative Conference.

One of the asteroids found by Chinese scientists was named after Ba, who was also chairman of the Chinese Writers' Association. In 2003, the State Council awarded him the title of "People's Writer."