Bush to visit China in November
(Reuters)
Updated: 2005-10-18 06:46
US President George W. Bush will visit China and Japan in November as part of a trip to a region of increasing economic significance and strategic concern to the United States.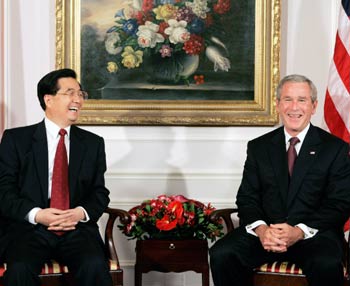 U.S. President George W. Bush (R) greets China's President Hu Jintao (L) in New York September 13, 2005. [Reuters]
The White House said that before attending the November 18-19 Asia Pacific Economic Cooperation summit in South Korea, Bush would visit Kyoto, Japan, on November 15 and meet with Japanese Prime Minister Junichiro Koizumi on November 16.
After the APEC meetings, Bush will go to Beijing on November 19, followed by Mongolia on November 21.
Bush, who previously visited Beijing in 2001 and 2002, is going to China at the invitation of Chinese President Hu Jintao, who has worked with the United States, South Korea, Japan and Russia to persuade North Korea to halt its nuclear weapons programs.
The trip coincides with simmering US concern over the rise of China on the global diplomatic stage and China's growing economic and military clout.
Senior U.S. officials have expressed deep concern about China's drive to lock up oil and raw material supplies from around the world, including from countries, like Iran, with which the United States is in conflict. Booming China is the third-largest importer of oil.
Hu had been scheduled to visit the White House in September for his first trip since taking the helm of the Communist Party in November 2002 but that visit was canceled so that Bush could focus on the aftermath of Hurricane Katrina.
The two leaders, however, met on the sidelines of the United Nations summit in September when Hu said China was willing to work with Washington to ease a growing trade imbalance in China's favor.
Bush will meet with South Korean President Roh Moo-hyun in Gyeongju on November 17, and hold bilateral meetings with other leaders at the APEC summit in Pusan, South Korea, the White House said.
"The president will continue his dialogue with APEC leaders on ways to promote free trade and economic growth, and deepen regional security cooperation," White House spokesman Scott McClellan said in a statement.