Wolfowitz: China no threat to the world
By Xu Binglan (China Daily)
Updated: 2005-10-17 16:00
It seems to be a very popular, convenient approach these days to compare China's rise to the emergence of Germany and Japan after the 1860s.

Those who like to make analogy between now and the dark days leading up to two world wars say that powers rarely emerge without sparking war and reshaping the international system.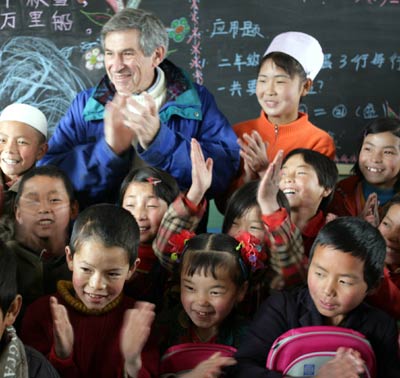 World Bank President Paul Wolfowitz poses for a photo with students of a primary school in Dongxiang County, Northwest China's Gansu Province Thursday October 13, 2005. Wolfowitz is inspecting some of World Bank's loan projects concerning poverty alleviation and education in China. [newsphoto]

The conclusion: there is a big chance that China's rise will lead to, at best, troubles, or, at worst, bloodshed.

However, Paul Wolfowitz, the World Bank's new president, would not subscribe to this argument. [Read Interview Transcripts]

"I believe it (China's rise) will be very different," Wolfowitz said in an exclusive interview with Beijing-based China Daily early this month.

"China's influence is going to grow. It is very important that China uses that influence in a constructive and positive way. And I have every reason to think that they (the Chinese) will."

Wolfowitz, who was United States' deputy secretary of defence before joining the World Bank in June, pointed out that China is not the only country that is becoming stronger.

India, Brazil, the Republic of Korea and Viet Nam are all also growing. The Republic of Korea and Viet Nam, though smaller than China and India, would be big countries if they were in Europe, he noted. International relations need to evolve in a way that allows for the growing influence of these countries, he said.

"It (the history of the rise of Germany and Japan) won't be repeated if people do the right things," Wolfowitz said in the interview aboard a flight from Lanzhou, in Northwest China's Gansu Province, to Beijing.