Snow: Punitive bills on China 'ill-conceived'
(Reuters)
Updated: 2005-10-17 16:13
U.S. Treasury Secretary John Snow said on Monday that he was convinced China was committed to letting market forces drive the yuan's value but warned Beijing had to show progress to hold off U.S. protectionist sentiment.
Speaking at a news conference after meeting Finance Minister Jin Renqing and Zhou Xiaochuan, governor of the People's Bank of China, Snow said both had given assurances of Beijing's will to further liberalize the country's financial markets and to make continued progress toward a more flexible yuan.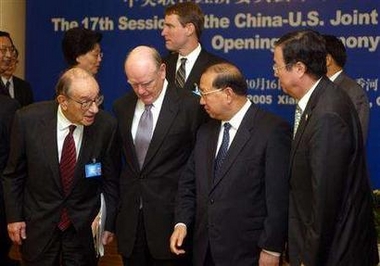 (L-R)U.S. Federal Reserve Board Chairman Alan Greenspan, U.S. Treasury Secretary John Snow, Chinese Finance Minister Jin Renqing and People's Bank of China Governor Zhou Xiaochuan talk before the opening ceremony of the 17th session of the Sino-U.S. Joint Economic Committee meeting in Grand Epoch City in Xianghe, about 100 km east of Beijing, October 16, 2005. [Reuters]

China revalued the yuan by 2.1 percent in July and abandoned a peg against the dollar in favor of a managed float.

But since then, the yuan has risen by less than 0.3 percent and U.S. law-makers are once again growing unhappy at what they call a seriously undervalued yuan.

Asked why he was confident that China would indeed let the currency range more freely, Snow said: "Governor Zhou and Minister Jin reaffirmed this fundamental commitment and reviewed with me a number of initiatives under way in financial markets, particularly with respect to the trading platform ... that are preparing the way for greater currency flexibility."

In a week-long visit to China, Snow has been trying to simultaneously show Congress that Treasury is toughly pushing for currency reform while also encouraging wary Chinese officials to press on with changes that U.S. officials say will boost China's domestic demand and cut America's trade deficit.

Snow was bracketed at the press conference by Christopher Cox, chairman of the U.S. Securities and Exchange Commission and Reuben Jeffery, chairman of the Commodity Futures Trading Commission.

The three were participating in meetings of the U.S.-China Joint Economic Commission, where the United States is trying to get Beijing to adopt the futures and options and other market mechanisms needed to support a floating currency.