Cayman Islands braces for tropical storm
(AP)
Updated: 2005-10-17 09:24
A tropical storm warning was in effect Sunday for the Cayman Islands as a tropical depression moved through the Atlantic on a path that could threaten the U.S. Gulf Coast later this week as a hurricane, forecasters said.
The system was expected to become Tropical Storm Wilma by Monday, which would make it the 21st named storm of the season, tying the record for the most storms in an Atlantic season, the National Hurricane Center in Miami said.
The only other time so many storms have formed since record keeping began 154 years ago was in 1933.
At 8 p.m. EDT, the depression was centered about 150 miles southeast of Grand Cayman, forecasters said. It was moving west-northwest near 2 mph and had sustained winds near 35 mph. Depressions become tropical storms when their winds reach 39 mph.
Long-term forecasts show the storm would likely move west and north, putting the storm in the Gulf of Mexico on Thursday or Friday. Forecasters said water temperature and other conditions were favorable for it to become a significant hurricane.
"Once storms get into the Gulf of Mexico, I'm aware of only one storm on record that dissipated. It has almost nowhere to go except land somewhere," hurricane specialist James Franklin said in Miami. "As it enters the Gulf of Mexico, the northwest Caribbean has some of the deepest warm water in the Atlantic basin and that's fuel for tropical cyclones."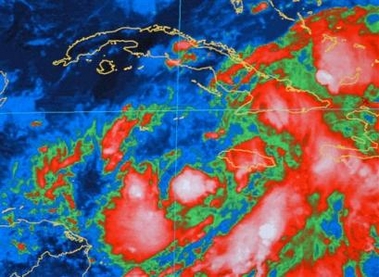 In this infrared satellite image provided by the National Oceanic and Atmospheric Administration, the center of Tropical Depression 24 is positioned about 150 miles to the southeast of Grand Cayman at 4 p.m., Sunday, Oct. 16, 2005.[AP]

The system had yet to form the well-defined core needed for significant strengthening Sunday afternoon. Dry air also appeared to be stopping the rise of warm, moist air needed for development, he said.

A hurricane watch was issued for the Cayman Islands, meaning hurricane conditions could be felt there within 36 hours. A tropical storm warning, meaning tropical storm conditions within 24 hours, also was posted.

The depression is expected to bring 4 to 6 inches of rain in the Cayman Islands and Jamaica, with as much as 12 inches possible in some areas, forecasters said.

In Jamaica, officials issued a flash flood warning for northwestern parts of the island.

Hurricane season ends Nov. 30. Wilma is the last on the list of storm names for 2005; there are 21 names on the yearly list because the letters q, u, x, y and z are skipped. If any other storms form, letters from the Greek alphabet would be used, starting with Alpha. That has never happened in roughly 60 years of regularly named Atlantic storms.