US presses China for more financial reforms
(chinadaily.com.cn)
Updated: 2005-10-17 09:14
Top US and Chinese economic officials launched their annual talks in Beijing Sunday with Washington agitating for more sweeping changes to China's economy and financial markets.

Delegations led by Chinese Finance Minister Jin Renqing and US Treasury Secretary John Snow opened the talks after a meeting of Group of 20 nations outside Beijing, and were to wrap them up Monday in the capital city.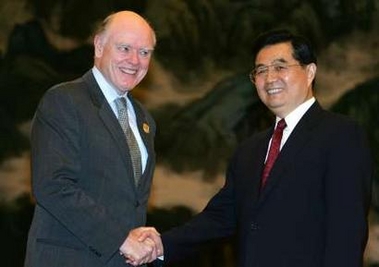 Chinese President Hu Jintao (R) shakes hands with U.S. Treasury Secretary John Snow during a meeting with leaders of the G20 Finance Minister and Central Bank Governors inside the Great Hall of the People in Beijing October 15, 2005. [Reuters]

The talks come towards the end of a week-long tour of China by Snow, who has been calling for China to get its newly prosperous consumers to save less and spend more.
Although US officials have acknowledged heated debate at the highest echelons of the Chinese elite as to how China should move its economy forward, Snow said of the financial reform drive: "It's real, it's happening."

Snow told reporters that both he and Federal Reserve chairman Alan Greenspan had shared the US experience of deregulation with the Chinese officials.

Similar reforms to China's currency, capital markets and the state-run sector will make the economy "more able to absorb the sort of shocks that inevitably come when you're a major player in the global economy", he said.

"I'm heartened that there is a genuine commitment, the many, many things that are going to preparing the way to getting China ready for more flexibility in its financial markets and in its currency, more market openings."

The United States has been evolving a new strategy for its financial dealings with China that puts less of an emphasis on thir dispute over yuan exchange rates.

Analysts said that the Treasury strategy appears in part an attempt to head off pressure in the US Congress for action against China over the currency question, and in part a recognition that a much bigger financial reform debate needs to be addressed.

Snow unveiled a list of US priorities for reform in China's financial sector that calls for far greater participation for foreign banks, insurers and brokerages in the tightly run domestic market.

The shopping list urges China to accelerate reforms of its currency trading regime, including the creation of a futures market; to speed up privatization of state-owned companies; and to set up an independent credit-rating agency.

Foreign banks, insurers and brokers should be allowed to open up multiple branches in China, and caps on foreign ownership of Chinese financial institutions should be scrapped.

In short, the US strategy would encourage Chinese consumers, who save nearly half of all their income, to become more like big-spending Americans fully armed for retail battle with credit cards and the array of consumer finance options.

China is racing to clean up its banking sector, bedevilled with bad loans after decades of easy credit, ahead of deregulation mandated by the World Trade Organization at the end of 2006.