West Bank shooting leaves 3 dead, 4 hurt
(AP)
Updated: 2005-10-17 09:03
Palestinian gunmen in a speeding car opened fire on a crowded bus stop Sunday, killing three Israelis and wounding four others in the deadliest attack on Israelis in more than three months, Israeli officials said.
Minutes later, militants carried out a second drive-by shooting elsewhere in the West Bank, seriously wounding one Israeli, officials said.
Also Sunday, Israeli troops shot and killed an Islamic militant and seriously wounded a bystander in the West Bank, Palestinian and Israeli officials said.
The violence was the worst since a July 12 suicide bombing in the northern Israeli town of Netanya killed five people. Israeli security officials have warned that following last month's withdrawal from the Gaza Strip, Palestinian militants would shift their focus to the West Bank.
The Al Aqsa Martyrs' Brigades, a militant group loosely affiliated with the ruling Fatah party, claimed responsibility for the shootings.
Israel responded with tough new measures limiting movement in the West Bank, security officials said. Exit from Bethlehem and Hebron will be blocked, Palestinian cars will be banned from the area and arrest raids will be increased, the officials said on condition of anonymity because they were not authorized to speak to reporters.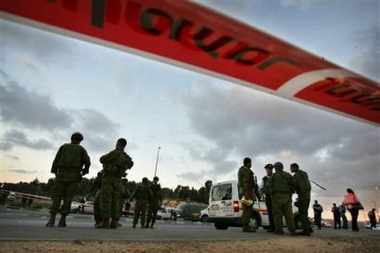 Israeli soldiers and paramedics stand at the scene of a shooting attack at the Gush Etzion Junction south of Jerusalem Sunday Oct. 16, 2005. [AP]

The decisions were made at high-level consultations led by Defense Minister Shaul Mofaz.

Amid the violence, Jordan's King Abdullah II promised Palestinian leader Mahmoud Abbas on Sunday to continue rallying international support for Mideast peacemaking and offered him help to take control of Palestinian lands relinquished by Israel.

Abdullah, who met Abbas at a hilltop Amman palace, said Israel's pullout from the Gaza Strip "must be followed by other withdrawals from the West Bank as stipulated in the road map" — the U.S.-backed peace plan that envisions Palestinian statehood.

Abbas arrived in Jordan on Friday at the start of a tour that also takes him to Egypt, France, Spain and the United States, where he is scheduled to meet President Bush on Thursday.

The first attack Sunday took place at a main intersection in a bloc of settlements south of Jerusalem. Militants racing by in a car opened fire at people waiting at a bus stop and at others in nearby cars.

Israeli rescue services said one Israeli died at the scene and two others died in the hospital. Two were young women, cousins aged 23 and 21, from a nearby settlement and the other was a 15-year-old boy, Israeli media reported.

The second militant attack took place near the settlement of Eli in the northern West Bank, relatively far from the first shooting.

Israeli officials immediately condemned the attacks.

"Israel removed roadblocks and made a number of humanitarian gestures to ease up on the Palestinians," said David Baker, an official in Prime Minister Ariel Sharon's office. "It's unfortunate that the Palestinians have exploited these measures to carry out these murderous attacks."

Palestinian officials identified the militant killed Sunday as 27-year-old Nihad Abu Ghanim, a local Islamic Jihad leader in Burkin, a village outside the northern West Bank town of Jenin.

The Israeli army said Abu Ghanim was killed when troops on patrol in the area spotted an armed Palestinian. The man shot at them and they returned fire, killing him, the army said.

A witness, however, said two Israeli jeeps drove up to Abu Ghanim as he was driving down the road and shot him inside his car. A bystander was seriously wounded.

Though attacks have continued, violence between Israel and the Palestinians has drastically decreased in recent months following the informal truce the two sides signed in February.

In an effort to strike a blow at Palestinian militant groups, Israeli troops have conducted raids across the West Bank in recent weeks, detaining hundreds of wanted Palestinians. Israel also has demanded that the Palestinians dismantle militant groups if it wants to restart peace talks.

"The Palestinian Authority has to move from the talking stage to the action stage," Mofaz said Sunday. "We will not be able to continue in this process if the Palestinian Authority does not start taking concrete actions against the terror groups."

Abbas has ruled out such a crackdown, saying it would start a civil war. His policy of using negotiation and persuasion, rather than force, to stop militant attacks has achieved only mixed results.