Japan PM to visit Yasukuni war shrine - aide
(Reuters)
Updated: 2005-10-17 08:21
Japanese Prime Minister Junichiro Koizumi was to pay homage on Monday at a shrine for war dead seen by critics as a symbol of Japan's past militarism, a step sure to outrage China and South Korea.
Japan's relations with its Asian neighbors have already chilled because of Koizumi's annual visits to Tokyo's Yasukuni shrine, where war criminals convicted by a 1948 Allied tribunal are honored along with the nation's 2.5 million war dead.
An aide to the prime minister confirmed Japanese media reports of the planned visit.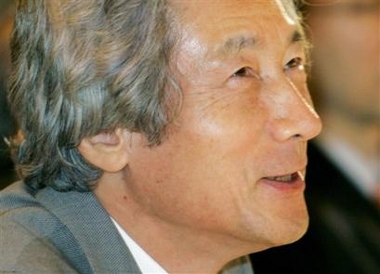 Japanese Prime Minister Junichiro Koizumi smiles prior to a meeting at his official residence at his official residence in Tokyo on Friday October 14, 2005, just after the upper house approved the privatization of the country's postal service, setting in motion the creation of the world's largest private bank.[AP]

Japan and China are trying to arrange talks in Beijing between Japanese Foreign Minister Nobutaka Machimura and his Chinese counterpart to discuss a possible leaders' summit later this year, media have said, and it was not clear how a Yasukuni visit would affect those discussions.

Koizumi has repeatedly said he visits Yasukuni to pray for peace and honor the war dead, not to glorify militarism.

He has avoided visiting the shrine on August 15, the anniversary of Japan's 1945 surrender that ended World War Two and an emotive date in the region, but his visits on other occasions have nonetheless infuriated China and other countries.

Frosty relations between China and Japan hit their lowest level in decades in April, when Chinese dissatisfaction over a range of issues, many of them relating to Japan's past militarism, erupted into anti-Japanese protests.

Bilateral talks aimed at resolving a row over rights to natural gas resources in the East China Sea have also made little progress.

Koizumi's planned visit to the shrine follows a landslide lower house election victory by his Liberal Democratic Party on September 11.