Snow to seek more open China markets
(Reuters)
Updated: 2005-10-17 07:12
U.S. Treasury Secretary John Snow on Sunday opened talks with Chinese officials to try to win more American access to China's booming economy and to take pressure off the hot-button issue of currency reform.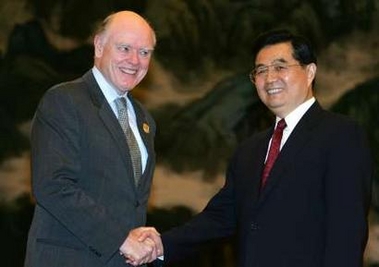 Chinese President Hu Jintao (R) shakes hands with U.S. Treasury Secretary John Snow during a meeting with leaders of the G20 Finance Minister and Central Bank Governors inside the Great Hall of the People in Beijing October 15, 2005. [Reuters]
Snow, in China on a week-long visit, is participating in sessions of the U.S.-China Joint Economic Commission (JEC) that began shortly after the midday close of a Group of 20 gathering of rich and emerging-nation countries near Beijing.
Federal Reserve Chairman Alan Greenspan joined Snow in the meetings, which shift to Beijing later on Sunday and continue on Monday. Chinese finance minister Jin Renqing and central bank governor Zhou Xiaochuan are participating in the talks.
While efforts to persuade China to let its yuan currency rise further in value preoccupy Congressional critics of the Asian trade giant in Washington, senior U.S. Treasury officials emphasize that their objectives are wider and potentially more valuable to the U.S. financial services sector.
On Saturday, Treasury Under Secretary Tim Adams outlined a wide-ranging agenda for the JEC talks including removing foreign ownership caps on financial institutions like investment-banking firms and other measures to open China's banking, insurance and securities sectors.
In part, the aim is to boost domestic demand so that China relies less on exports, which in turn should mean China's surpluses on trade with the United States and others grow less rapidly and America's problems with mounting deficits ease.
"If you truly want to deal with these imbalances, bilaterally or multilaterally, you have to focus on more than just the currency," Adams said, important as it was.
"So what we try to do is just take a quantum leap in sophistication and scope so that with Congress or with others we can have a much more informed discussion about how we can actually get things done," he added.
On Sunday, Germany's deputy finance minister, Caio Koch-Weser said low-key confidential consultations were the way to prod China. "Public debate is not very productive," he added.