China, US start annual talks on economy, topics thorny
(Xinhua)
Updated: 2005-10-16 21:47
Senior Chinese and US financial and monetary officials started their annual talks Sunday afternoon in Xianghe, a town some 50 kilometers east of Beijing.
The meeting, 17th of its kind, was co-chaired by Chinese Finance Minister Jin Renqing and his US counterpart John Snow.
Chinese Central Bank Governor Zhou Xiaochuan and US Federal Reserve Chairman Alan Greenspan also sat face to face across the negotiation table.
Both countries dispatched nearly 40 delegates to the talks, who were senior officials from regulators and administrators on securities, banking, insurance, foreign exchange and commerce.
Topics of the talks were not immediately available. But Chinese Foreign Ministry spokesman Kong Quan said earlier that the officials are expected to discuss a range of issues at the meeting, including the RMB exchange rate as well as global economy.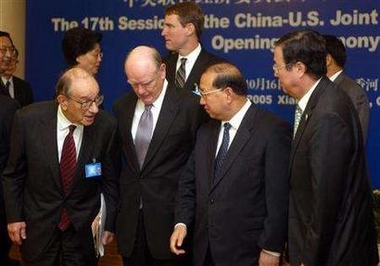 (L-R)U.S. Federal Reserve Board Chairman Alan Greenspan, U.S. Treasury Secretary John Snow, Chinese Finance Minister Jin Renqing and People's Bank of China Governor Zhou Xiaochuan talk before the opening ceremony of the 17th session of the Sino-U.S. Joint Economic Committee meeting in Grand Epoch City in Xianghe, about 100 km east of Beijing, October 16, 2005. [Reuters]

On July 21, China announced that its currency, the RMB yuan, will be traded at a rate of 8.11 to the US dollar and the yuan to US dollar pegging system is switched to a basket of foreign currencies. Since then, the yuan has appreciated by nearly two percent against the US dollar.

However, some developed nations, typically the United States, still contended that the yuan was undervalued, giving Chinese exporters an "unfair" advantage. They said the two percent rise in the yuan's value is too small.

In response, Chinese Premier Wen Jiabao reiterated that the reform of the RMB exchange rate mechanism should be "a gradual process."

In a meeting with International Monetary Fund Managing Director Rodrigo de Rato, Wen said that to gradually establish a managed, floating exchange rate system based on market supply and demand and to keep the yuan basically stable at a reasonable and balanced level is the "unalterable direction" and goal of China's exchange rate reform.

Zhao Jinping, an economist with the State Council Development and Research Center, said Wen's remarks showed the goal of China's exchange rate reform is clear and consistent and it will not be changed due to some outside criticism.

"What should be discussed currently is how to minimize the impact of the reform to the world economy rather than pressing China for a faster speed," he said.

Finance Minister Jin put it in a more direct way, saying that the yuan appreciation would not remove economic imbalances of the world, especially of certain nations, and that China will not follow the "orders" of others to conduct the exchange rate reform.

Established in 1979, the JEC has served as a regular forum for Chinese and US officials to get together and discuss economic issues.

On Monday, the Chinese and US officials will continue the meeting at the Diaoyutai State guest House in Beijing. The 17th JEC meeting is expected to close Monday afternoon.