Shenzhou VI to return early Monday morning
By Zhao Huanxin (China Daily)
Updated: 2005-10-16 21:08
Two astronauts piloting the Shenzhou VI spacecraft are expected to return to the Earth early Monday morning after a five-day space voyage, the China Manned Space Programme headquarters announced 9pm Sunday.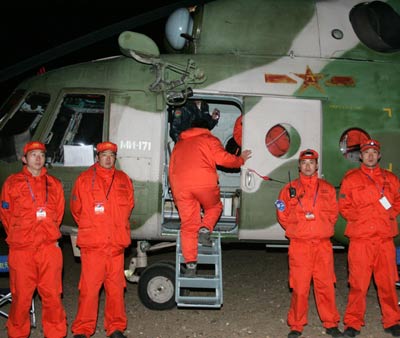 Medical workers take part in a touchdown drill in the main landing field in central Inner Mongolia Autonomous Region Thursday October 13, 2005. China's second manned spacecraft is scheduled to return to the Earth Monday morning. [Xinhua]

If all goes according to plans, astronauts Fei Junlong and Nie Haisheng will "return triumphantly" on Monday -- as wished for by Chinese President Hu Jintao on Saturday in a special phone talk -- to the primary landing site in Siziwang Banner (county) in central Inner Mongolia, according to the headquarters.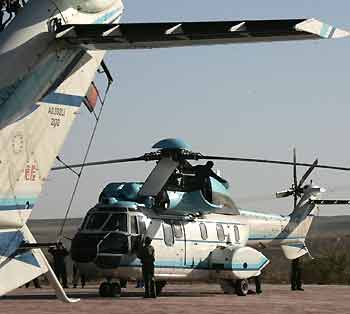 Members for spacecraft recovery work on a helicopter at the landing area for China's orbiting manned spacecraft Shenzhou VI to return in Siziwang Banner, North China's Inner Mongolia Autonomous Region Sundday, Oct. 16, 2005.[Xinhua]