Romania culls poultry as EU braces for bird flu
(Reuters)
Updated: 2005-10-16 20:04
Romanian authorities slaughtered more domestic fowl on Sunday after the deadly strain of bird flu was detected in the Danube delta, as officials elsewhere in Europe prepared for a possible pandemic.
British laboratory tests confirmed on Saturday that the H5N1 strain of the disease had reached mainland Europe for the first time, after it was identified in three ducks found dead in the Romanian Danube delta village of Ceamurlia de Jos.
Experts fear the H5N1 virus, which has killed more than 60 people and caused the death of millions of birds in Asia since 2003, could mutate and spread easily among humans, creating a pandemic that might kill tens of millions.
Romanian Agriculture Minister Gheorghe Flutur said the outbreak was limited to Ceamurlia and Maliuc, 40 km (25 miles) north. All 18,000 domestic birds in Ceamurlia were killed and culling of Maliuc's less than 3,000 poultry was under way.
"On a 10-kilometre (six-mile) radius around Ceamurlia de Jos, the tests (for bird flu) are negative," Flutur told reporters.
The Danube delta, Europe's largest wetlands near the Black Sea, is a major way station for migratory wild birds coming from Russia, Scandinavia, Poland and Germany and heading for warmer North Africa, including the Nile delta, for winter.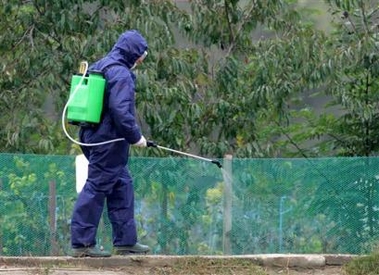 A Romanian health worker sprays dissinfectant in the village of Vulturul, 300km (186 miles) east of Bucharest, Romania Saturday Oct. 15, 2005. [AP]

Despite the Romanian assurances, Britain's chief medical officer said on Sunday his country was braced for a pandemic of bird flu that could result in at least 50,000 deaths there.

The official, Liam Donaldson, echoed previous warnings by saying history suggested the bird flu virus could combine with a human flu virus and become easily transmissible.

"Once in a while, every 10 to 40 years, the flu virus mutates into a strain which we haven't got natural immunity to," he told BBC TV. He said a normal winter flu kills more than 12,000 people in Britain.

"If we had a (bird flu) pandemic the problem would be the existing vaccines don't work, we would need a new vaccine and people don't have natural immunity," said Donaldson.

"So the estimate we are working toward is around 50,000 excess deaths from flu, but it could be a lot higher than that -- it depends on whether the strain is mild or serious."

No human cases of bird flu have so far been reported from either Romania or Turkey, where H5N1 was also identified in birds last week.

A Turkish Health Ministry official said on Saturday that nine people under observation in hospital for possible bird flu had been allowed to go home as tests showed they were not infected.