US sees Iraq charter passed but veto risk looms
(Reuters)
Updated: 2005-10-16 19:26
Washington thinks Iraqis voted "Yes" to their U.S.-brokered constitution but as poll workers counted and recounted piles of ballots across Iraq on Sunday the possibility of a Sunni minority veto lurked in the background.
"Most people assume on the ground that it probably has passed," Rice told reporters during a visit to London, hailing the turnout in Sunni Arab areas which had largely boycotted a vote in January to the parliament that wrote the constitution.
Overall, turnout was running at 63 to 64 perecent, the head of the Electoral Commission Hussein Hendawi told Reuters, and could go higher. It was 58 percent in January's historic first post-Saddam Hussein election, which most Sunnis shunned.
Hendawi said he had no word on the result but local officials from his agency began to give a picture of a strong "Yes" vote in the Shi'ite Muslim provinces of the south and of massive rejection in the Sunni heartlands of the north and west.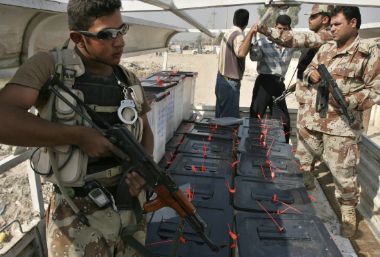 Iraqi National Guard officers keep watch as ballot boxes containing the ballots of the constitutional referendum are loaded into a truck, before being transported to a final vote counting centre, at a polling station in Baghdad October 16, 2005. [Reuters]

Two of three provinces required to return blocking majorities against the charter looked set to do just that, officials said. It was unclear, however, whether a third, out of 18, would follow suit, thereby vetoing the constitution.

In schools and government buildings around the country, officials were counting, re-counting and stacking piles of "Yes" and "No" ballots; clear plastic ballot boxes, sealed with red tape, were then loaded into Iraqi army lorries and driven under escort for more counting in Baghdad.

Three soldiers were killed late on Saturday when a roadside bomb hit one such convoy. Three rockets landed in the capital's fortified Green Zone government compound, where officials are doing the final count. They caused no serious damage.

Shi'ites and their Kurdish allies in government make up three quarters of the population but the Sunni Arab 20 percent could veto the charter if three provinces vote "No" by a two-thirds majority.

TWO BIG "NO" VOTES

Two provinces look set to clear that hurdle, including Saddam's home region of Salahaddin around Tikrit and Samarra, where an election official said the Noes had it by 70 percent.

In Falluja, where thousands of insurgents battled U.S. troops a year ago, some 90 percent of registered voters turned out, local election chief Saadullah al-Rawi told Reuters, and 99 percent of them voted "No" to a constitution that Sunni leaders say may tear Iraq into powerful Shi'ite and Kurdish regions.

Overall figures from other cities in Anbar province, where Falluja lies, were not available but turnout was expected to be low due to fighting and fear of fighting during Saturday's vote.

If Anbar and Salahaddin return blocking "No" results, all eyes will be on Mosul, the northern capital of Nineveh province and a city divided sharply between Sunni Arabs and Kurds. Diyala province, northeast of Baghdad, might also vote "No".

South of the capital, despite some surprisingly strong rejection by nationalist followers of radical Shi'ite cleric Moqtada al-Sadr, pro-constitution votes were clearly ascendant.

In the provinces of Najaf and Kerbala, local officials said the constitution was approved by about 85 percent.

Elaborate security measures prevented big insurgent attacks on voting day, with only scattered strikes reported across Iraq after months of bloodshed in which thousands have been killed.

Election officials said partial official results from the vote could be available as early as Sunday, but that it would take several days for the verdict to become totally clear.

NEW ELECTION

If the constitution passes Iraq will go to the polls again in December to elect a new, four-year parliament in a step that Washington says will mark its full emergence as a sovereign democracy and new Western ally.

A "No" vote would force the country's warring factions back to the drawing board, limiting December's election to a new interim assembly and government to redraft the charter.

Despite the uncertainty, Saturday's referendum won praise from the United Nations and the Bush administration.

The White House praised the large turnout and the relative calm compared to the January election of an interim parliament when more than 40 people were killed in more than 100 insurgent attacks, including suicide bombings.

"It appears that the level of violence was well below the last election," White House spokesman Allen Abney said.

"Today's vote deals a severe blow to the ambitions of the terrorists and sends a clear message to the world that the people of Iraq will decide the future of their country through peaceful elections, not violent insurgencies," he added.

Saturday's ballot was held three years to the day after Iraq's last constitutional referendum, which asked voters if they wanted to extend Saddam's rule by seven years. Saddam's regime said 100 percent of eligible voters cast their ballots and 100 percent supported him.