Weather favorable for Shenzhou VI's return
(Xinhua)
Updated: 2005-10-16 19:22
The weather conditions in the next two days are favorable in the Shenzhou VI capsule's primary landing site in north China, the national weather station said Sunday.
"Pretty good" weather is expectable on October 17 through 18, which is favorable for a safe return of the Shenzhou VI capsule, China's second manned spacecraft that blast off Wednesday morning, said Yang Guiming, a top meteorologist.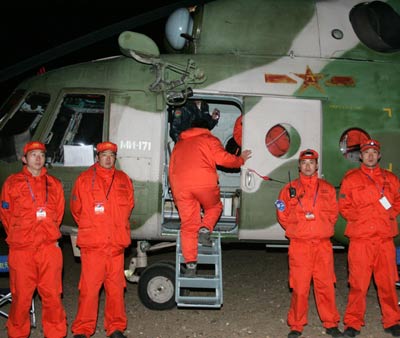 Medical workers take part in a touchdown drill in the main landing field in central Inner Mongolia Autonomous Region Thursday October 13, 2005. China's second manned spacecraft is scheduled to return to the Earth Monday after 119-hour flight. [Xinhua]

No rains, high visibility, and light and steady breezes are expected in the coming two days, said Yang, senior engineer of China Central Meteorological Station.

According to the forecast, the wind speed is below 6 meters per second and morning temperature is minus 1 degree Celsius on October 17 and even lower wind speed and similar temperature on October 18.

Shenzhou VI in sound flight

Shenzhou-6, China's second manned spacecraft, had safely traveled in space for 100 hours as of 1:10 p.m. Sunday since it was lifted off Wednesday morning, Xinhua learned.

The vessel flew a total of 2.8 million km in the past days.

Chinese President Hu Jintao talked with the two taikonauts in space Saturday afternoon at the Beijing Aerospace Command and Control Center, praising their performance and wishing them a triumphant return.

The spacecraft was working well and they were feeling good, taikonaut Nie Haisheng said, adding that all space scientific experiments were carried out smoothly as planned.