Rice fails to win Russian support on Iran
(AP)
Updated: 2005-10-16 09:26
Condoleezza Rice could not win new support from Russia for hauling Iran before the U.N. Security Council, but the U.S. secretary of state said Saturday that option remains open "at a time of our choosing."
Washington and its European allies are waiting to see if a defiant Iran will return to diplomatic talks over its disputed nuclear program. If not, they say they will invoke the threat of economic penalties or other punishment from the Security Council.
After hastily arranged and unexpectedly lengthy meetings with Russian President Vladimir Putin and his foreign minister, Rice said Moscow is trying to push its ally Iran back to the bargaining table.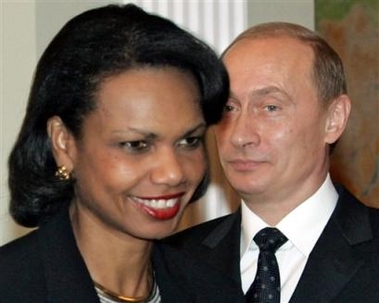 Russian President Vladimir Putin and U.S. Secretary of State Condoleezza Rice smile during their meeting in Putin's Novo-Ogaryovo country residence west of Moscow, Saturday, Oct. 15, 2005. [AP]

But there was no sign that Russia was prepared to back an effort to have the International Atomic Energy Agency refer Iran's case to the Security Council. Even so, Rice tried putting the best face on Russia's preference to keep negotiating.

"It's quite obvious that if it doesn't work, then the Iranians are going to have to be referred to the Security Council," she told reporters on her flight from Moscow to London, where she was holding talks with the British on Iran and other issues.

"We're going to keep open the prospect, the path, of referral at a time of our choosing," Rice said.

That prospect seemed more remote than it did last month, when Russia abstained rather than vote no on a measure rebuking Iran and setting up future Security Council review.

Russia's foreign minister, Sergey Lavrov, said Saturday the Iranian nuclear question can be handled through the U.N. nuclear watchdog agency, which is already monitoring nuclear activities in Iran.

"We think that the current situation permits us to develop this issue and do everything possible within the means of this organization, without referring this issue to other organizations now," Lavrov said after meetings both in a large group of U.S. officials and directly with Rice.

Even if the U.S., Britain, France and Germany won a vote at the IAEA to send Iran before the Security Council, it is not clear whether any tough measure would ensue.

Russia and China, members of the Security Council with veto power, have said they do not want to see the Iranian case come there.

Iran has said it has nothing to fear from the Security Council, presumably out of confidence that Russia and China would veto a tough proposal for punishment.

French Foreign Minister Philippe Douste-Blazy said Friday that Iran really does fear going before the Security Council and that the threat should be enough to get them to back down. Rice was in Paris for consultations before heading to Moscow and London.

The IAEA next takes up the Iran question on Nov. 24. Rice would not predict how Russia will vote.

"An abstention is a wait-and-see," and the diplomatic process has not played out, Rice said.

She indicated the issue may linger past next month's vote, when the U.S. had been expected to push for a vote that would send Iran's case forward immediately.

After the last vote, U.S. officials were insistent that absent a major turnabout from Iran, a Security Council referral for possible punishment was inevitable.

Washington, which has no diplomatic relations with Iran, long has contended that the hardline Islamic nation is hiding a bomb-making project behind a legitimate program to develop civilian nuclear power stations.

Russia is helping Iran build one part of that civilian program, but the deal does not give Tehran full access to nuclear technology that could be diverted for weapons. Rice said that arrangement shows Russia shares global alarm about Iran's intentions.

Britain, France and Germany led two years of off-and-on talks with Iran over ending disputed portions of its nuclear program in exchange for economic incentives. Iranian officials rejected a proposed deal that, like the Russian model, would have kept some parts of the nuclear energy process off limits to them.

Rice's discussions on Iran come at a sensitive time. Iran has shown a willingness to return to negotiations, but not to drop what it calls its right to full nuclear know-how. Iran's supreme leader also may be trying to undercut the authority of Iran's new government.