Canada to export 450,000 bpd of oil in 6 yrs
(Reuters)
Updated: 2005-10-16 09:21
OTTAWA - Canada could export up to 450,000 barrels per day of crude oil to China from northern Alberta's oil sands in the coming six years, Canadian Natural Resources Minister John McCallum said on Saturday.
China's president expressed interest in Canada's oil sands in talks earlier in the day, according to McCallum.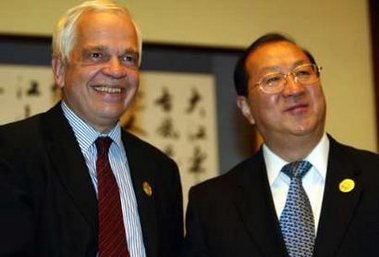 Chinese Finance Minister Jin Renqing (R) and Canadian Minister of National Revenue John McCallum smile during a bilateral meeting prior to the G-20 Finance Ministers and Central Bank Governors Meeting in Grand Epoch City in Xianghe of the Hebei province, about 100 km (62 miles) east of Beijing October 14, 2005. [Reuters]
He said he would have been "energetic" in offering crude under normal circumstances but was "super energetic" given Canada's trade problems with the United States.
"As the prime minister made very clear, we are very serious about the United States respecting the rules of NAFTA (North American Free Trade Agreement)," McCallum told reporters on a conference call from China.
Prime Minister Paul Martin bluntly rejected a call by U.S. President George W. Bush on Friday to negotiate an end to a long-running softwood lumber dispute, since Canada had already won a key trade ruling earlier this year.
The two sides are at odds over the $6 billion in softwood lumber that Canada ships to the United States for use in home building and remodeling.
Washington imposed duties because it claims the Canadian wood is subsidized and dumped in the United States. This move has led to competing claims under NAFTA and the World Trade Organization.
McCallum said Canada needs to further diversify its trading relations given the growth of economies in China, India and elsewhere.
"We're intensifying our push in this direction because it's becoming ever clearer that this is where the weight of the global economy is going to increasingly be. So this is a normal, rational response in terms of our economic interests, and I don't see why the Americans would be surprised," he said.
Canada ships other goods to China including minerals, grains and oilseeds.
"Beyond the 450,000 barrels of (crude) oil per day is the much more important point that this is the future of the global economy and it's fundamentally in our interests that we become a part of it," McCallum added.
"We're also talking about a lot of other commodities."